Your comprehensive guide to walk-in wardrobes
| Wardrobes, Bedroom, Inspiration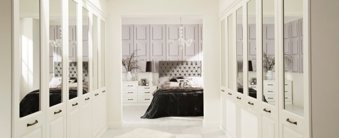 What is a walk-in wardrobe, how big should it be, and will it add value to your home? We explore all this and more in our latest blog.
Your comprehensive guide to walk-in wardrobes
Do you look longingly at Pinterest images of beautiful walk-in wardrobes and would like to create your own? Perhaps your closet is a mess, and you want to get organised with a new storage solution? Whatever your situation, you're in the right place. Here, you'll find everything you need to know about walk-in wardrobes, from how big they should be to whether they'll add value to your home – and much more!
What is a walk-in wardrobe?
As the name suggests, they're large wardrobes that you can walk into and are usually built in modular pieces from the ground up. They can either be open with items on display or concealed with doors for privacy. The great thing about walk-in wardrobes is they can be created almost anywhere in your home. You can use some existing space in your bedroom, make use of an awkward spare room, convert your loft, or otherwise. They can be fitted into spaces of all shapes and sizes, from small narrow spaces to full-blown dressing rooms.
Does a walk-in wardrobe add value?
When it comes to installing a new walk-in wardrobe, most homeowners are keen to find out if they'll get a return on their investment. So, does a walk-in wardrobe add value to a home? When it comes to buying and selling properties, storage comes at a premium. Most house buyers will be on the hunt for effective and efficient storage solutions, so as long as you're not sacrificing a main bedroom or bathroom, a walk-in wardrobe is likely to be a highly desirable feature. It may just set your property apart from other houses on the market in your area.
How big should a walk-in wardrobe be?
Many people think that walk-in wardrobes need to be huge, for instance the size of a full room, and packed full of clothes, bags and accessories. This is a common misconception – a walk-in wardrobe can be any size. It just needs enough depth to fit interior storage solutions, like rails, drawers and shelving. This means that there's no right or wrong when it comes to how big a walk-in wardrobe should be, as it can work in a space of almost any shape and size. Whether it's long and narrow, a perfect square or has a sloping ceiling, you'll be able to tailor storage systems to suit.
How to design a walk-in wardrobe
Many people want to know how to design a walk-in wardrobe that will truly work for them. To do this, you really need to understand your wardrobe needs. Do you own lots of long coats, dresses or skirts? Then you should dedicate space for long hanging items. Or perhaps you have tonnes of accessories that often end up in a tangled mess? Then creating a storage system for jewellery, belts, ties and other items is a must. It's worth spending some time looking at a variety of clever storage solutions, like tie racks, jewellery trays and glamour units to see what will work for you. Also, if your wardrobe will be part of a dressing room, you'll ideally want to include a full-length mirror and a chair or bench in your design.
How to organise a walk-in wardrobe
Ultimately, a walk-in wardrobe should be organised to suit your lifestyle. It's often worth categorising your clothing and accessories into different themes, such as work items, casual clothing, activewear, jewellery, coats and so on. This will streamline your storage and mean you'll spend less time searching through everything to find what you need. It's also worth having things you use daily within easy reach, as well as popping things that may be forgotten in clear containers. If you need more inspiration on how to organise a walk-in wardrobe, watch Netflix's latest hit show Get Organised with The Home Edit. It follows professional home organisers Joanna and Clea, and offers plenty of walk-in wardrobe ideas, from categorising items to colour coordination and much more!
If you'd like to transform your storage with a fitted wardrobe, our experts are on hand to help. We can create a bespoke wardrobe system that suits both your needs and your unique space – making the most of every inch from wall to wall and ceiling to floor. Why not book a free design visit today and find out how a walk-in wardrobe could work in your home?
You can also find further guides and inspiration on the Hammonds blog.
You bring the space, we bring the inspiration
Whether you have an exact vision in tow, or are just at the beginning stage of your home renovation, we have heaps of inspiration for you to get stuck into. 
Find a wealth of design tips, trends and inspiration in the pages of our brochure, magazine and on our blog. Our experts are always ready to help you create dream home, pop in store or book your free design visit for experts to help on bringing your vision to life.