Your guide to built-in bedroom storage
| Inspiration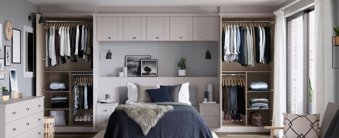 Your guide to built-in bedroom storage
You may be a built-in bedroom storage novice or simply need more information to answer questions you might have - either way, you've come to the right place. We'll go into detail about everything from built-in storage for small bedrooms to built-in bedroom storage ideas that will transform your home.


What is built-in bedroom storage?
It's storage furniture that's built into the foundations and walls of your bedroom. The result? A seamless finish that removes the need for any niggling pieces of furniture that don't quite fit into the nooks and crannies of your room.


Why use built-in bedroom storage?
Getting built-in bedroom storage means going bespoke, and the beauty of going bespoke is that the result will be moulded perfectly to your desired room. Built-in storage for small bedrooms is practical as it offers a simple solution for optimising space, without compromising on design.
It's a great option for anyone who prefers minimalist or contemporary décor, particularly as it allows you to stow away items, keeping your space neat and tidy. So, if you prefer an open and airy feel in your home, bedrooms with built-in storage are the ideal investment.


What are the different types of built-in bedroom storage?
Stuck for built-in bedroom storage ideas? There are endless designs out there. You could go for statement fitted wardrobes that integrate all kinds of features, from pull-out shoe racks to jewellery trays - even glamour units! Instead, you might opt for bookshelves that fill empty corners in the room. Or, perhaps the ultimate space-saver, over-bed storage utilises areas you may not have even considered.


When should you get built-in bedroom storage?
If you're a homeowner looking to invest in your bedroom, particularly with a view to optimising your space, this is the perfect opportunity to consider built-in bedroom storage. Otherwise, you may be looking into it purely for aesthetic purposes, say, if you're planning to redecorate. It's a brilliant way to get creative after all, while having fun with your space.


What's the process of getting built-in bedroom storage?
Built-in bedroom storage is a big project, which means it's important to follow the steps and get things exactly how you envisage them. By collaborating with a designer, any potential faults will be ironed out. They may even suggest clever storage features that didn't occur to you. Nailing the design and the colours involved will be key, so having an expert on hand will make your life 10 times easier. Once the plans are drawn up, the designer will work with the manufacturers to get the pieces assembled. Then, once a date and time is booked, an engineer will install the built-in storage into your bedroom.


How long does the process take?
You will need to consult with the company you choose when considering the timeline. This may depend on which materials, colours or features you choose. Typically, it can take upwards of eight weeks.


Things to consider before buying built-in bedroom storage
Whilst built-in bedroom storage can be a design investment, it's important to consider the practical side of things as well. What you will use it for on a day-to-day basis? Are there additional features that will help keep your bedroom organised? Also, make sure you know the dimensions of your bedroom, as these need to translate well once your built-in storage is installed. Of course, the designer will help you with this, so don't worry too much. On top of this, make sure you are realistic about the time frame for the project.


See how Hammonds can help
Did you know that we offer free design visits? Our design experts will help you turn your design aspirations into a perfectly fitted reality with the help of 3D design software.
You bring the space, we bring the inspiration
Whether you have an exact vision in tow, or are just at the beginning stage of your home renovation, we have heaps of inspiration for you to get stuck into. 
Find a wealth of design tips, trends and inspiration in the pages of our brochure, magazine and on our blog. Our experts are always ready to help you create dream home, pop in store or book your free design visit for experts to help on bringing your vision to life.