Your guide to minimalist interior
| Inspiration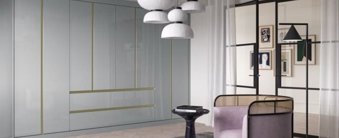 Your guide to minimalist interior design
Minimalism is a design movement that has become increasingly prominent in the modern home. Offering a clean, simple and uncluttered look, this type of interior offers a "less is more" aesthetic.
Our guide is here to teach the ways of this popular design style, explaining the best tips and tricks for you to switch things up and incorporate minimalism into your home.

What is minimalist design?
The minimalist style stands out for its simplicity, using the bare essentials to create an elegant and uncluttered space. It typically features open floor plans accompanied by functional furniture, with light and warm neutral tones making your rooms feel beautiful and bright.
This aesthetic involves stripping things down to their most basic form, often featuring a monochromatic palette. Rather than having lots of items and furniture on display, it focuses on the shape, colour and texture of the essential elements in your home.

Why is minimalist design so popular?
Minimalist design is simple by nature. It encourages you to decorate your home with fewer objects and materials – making it a relatively inexpensive style that can be combined with many other themes and trends.
Minimalism is also conducive to tidiness, which in turn helps transform your home into a blissful space that's fit for relaxation. The aesthetic allows our eyes to focus quickly on what we're most interested in, rather than being overwhelmed by a crowded and cluttered space.

How to design a minimalist home
Now that we've explained the basics of minimalist design, we'll tell you the key ways you can incorporate it into your home.
The first step is to remove all unnecessary objects. Store away anything that doesn't need to be on show, creating a cleaner look before you've even got started. However, a tidy space isn't the only thing that makes a minimalist design. So, what are the next steps?

Add accessories mindfully
Many people mistakenly think that minimalism is about depriving yourself of items. But rather than being about what isn't in your home, it's about making sure that everything that is in your home is essential.
Be thoughtful when selecting accessories to put on display – there's no need to display things just for the sake of it. Instead, try to choose significant or statement pieces, perhaps ones that hold sentimental value to you. Prints and bold patterns tend to be avoided, instead using monochromatic colours with a variety of shades and tones to achieve the minimal look.

Use flat surfaces and create clean lines
Minimalist furniture and accessories are predominantly focused on functionality and practicality, so you don't want to use overly complex forms in your design.
Flat, smooth surfaces with sharp edges can create clean lines to really make a statement, emphasising the true nature of each item. Relatively bare walls and clean tables will help reflect the light and make your rooms seem more spacious, shifting the focus onto the simplicity of your furniture items.

Maximise storage
With such a huge emphasis on clean and spacious rooms, a successful minimalist design hinges on having ample storage in your home.
With the help of clever solutions such as fitted furniture, it's never been more simple to keep clutter out of sight and make your home feel as spacious as possible. Fitted furniture can be made-to-measure, ensuring no awkward gaps are left untouched.
Fitted wardrobes and storage units can be tailored to fit the whole height of a room and can turn even the tightest corner of your home into an out-of-the-way place for your belongings. You can also take charge of the design of your fitted furniture, creating a bespoke look that's unique to your home and fits in with your new minimal interior.

Keep it simple with Hammonds
If you'd love to make your home minimal and keep it clutter-free, why not book a free design visit with Hammonds today? We'll explain the fantastic benefits of having fitted furniture in your home, bringing years of experience with us to help you create a design that best suits your requirements, from taste, style and budget.
You bring the space, we bring the inspiration
Whether you have an exact vision in tow, or are just at the beginning stage of your home renovation, we have heaps of inspiration for you to get stuck into. 
Find a wealth of design tips, trends and inspiration in the pages of our brochure, magazine and on our blog. Our experts are always ready to help you create dream home, pop in store or book your free design visit for experts to help on bringing your vision to life.