Beige Home Office Furniture
Create a space that you feel comfortable in throughout your working day with neutral beige home office furniture. This classic colour is perfect for making any room cosy and our collection includes a choice of beige custom fitted furniture that will slot seamlessly into your home.
Classic neutrals
Beige tones are timeless. They work in harmony with other neutral shades, as well as with a range of bold colours, providing the perfect base for daring designs. Beige is ideal for creating a soothing space too, making it a great option if you need a relaxing atmosphere in your home office.
Customised designs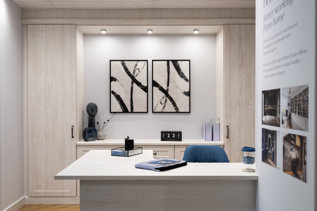 Our beige home office furniture collection is crafted from quality materials and can be customised with tailor-made storage solutions. Plus, we can build made to measure furniture that's designed to fit into any space.
Perhaps you're working in an attic and need an office setup that's built into the walls? Maybe you're in a small room and need to free up floorspace? Whatever your home office setup looks like, we will add practical-yet-stylish fitted furniture in the beige tone of your choice.
Need Inspiration?
Refine your vision for your home office by booking a free design visit and source further inspiration from our magazine, free brochure or blog.