Black Home Office Furniture
Timeless black is a classic choice for those who want to add something slick to their home office setup. It's the ideal colour for making an office look smart, and we offer a choice of made to measure furniture in black that will add a professional touch to any space.
Striking and chic
Sleek and sophisticated, black home office furniture is a bold choice for any workspace. It can transform the look of a room and make a big impact on the décor. While it's a strong choice, it also matches with almost any other colour. So, whether you want to go for a monochrome design in your home office or want to add a splash of colour, you'll find that it works well to have black furniture as a base point.
Tailored designs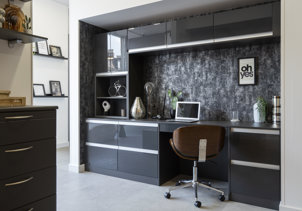 We use high-quality materials and the finest craftsmanship to bring you our beautifully made black home office furniture collection. It can be customised with storage solutions that are tailored to your requirements.
We can also build fitted furniture that will slot into any space. Whether you're working in the attic and need custom-built shelving or reimagining a corner of your spare room, we're here to help. Our team is on hand to add made to measure furniture that works for you.
Design your home office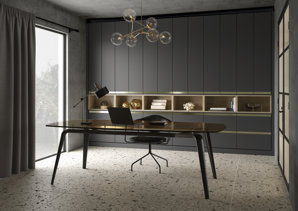 When it comes to creating your dream home office, our team is skilled in seeing your vision go from conception to installation. We work with you to provide fitted storage solutions with furniture that's customised to work in your home. From shelving and drawers to cupboards and built-in trays, we'll work with you to design your home office setup from scratch.
Need Inspiration?
Refine your vision for your home office by booking a free design visit and source further inspiration from our magazine, free brochure or blog.