Blue Home Office Furniture
Blue is a colour that is coolly elegant and totally relaxing, making it the perfect choice for a home office. At Hammonds, our blue home office furniture collection comes in a selection of soothing shades that are sure to make a calming workspace for your home.
Cool blue
Whether you want a deep, royal tone or a lighter hue, there are different blue colours to choose from here at Hammonds. There's blue-grey furniture that seamlessly blends with classic neutral shades like rich cream or vibrant white, as well as striking cobalt blue that makes a statement. Whatever look you have in mind, you'll find the ideal match when you browse our selection of blue home office furniture.
Bespoke storage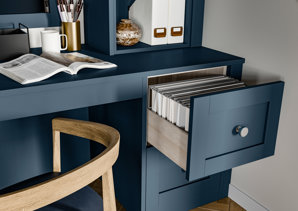 If you need custom-built storage, our team of experts will work with you to introduce made to measure fitted furniture into your home office. Comprising quality materials, our crafted blue home office furniture collection can be tailored to suit your needs.
We will measure the space and build furniture to slot into your room. Our range of home office furniture includes storage solutions that work exclusively for you. Whether you need shelving and drawers or more cupboard space, you'll get the furniture you need.
Need Inspiration?
Refine your vision for your home office by booking a free design visit and source further inspiration from our magazine, free brochure or blog.