Grey Home Office Furniture
Effortless and contemporary – a grey home office makes a seamless and unobtrusive update to complement your home. Match the overall aesthetic of your home or create a space just for you. Whatever you want, Hammonds' grey home office furniture has you covered.
Shades suited to you
At Hammonds, we understand the spectrum of shades when it comes to grey. That's why our collection of grey fitted home office furniture comes in a staggering array of hues to help you find the perfect one. Whether your taste is for a light grey home office for an airy feel or a dark grey home office to hide away in, we can help.
Custom-made solutions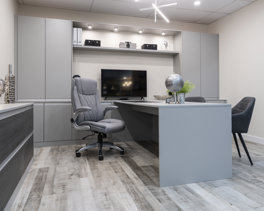 Need Inspiration?
Refine your vision for your home office by booking a free design visit and source further inspiration from our magazine, free brochure or blog.