White Home Office Furniture
Clean, minimalist and endlessly chic – white office furniture turns your home office into a gleaming workspace. Whether your personal style exudes contemporary cool or you enjoy something slightly more classic, Hammonds' white office furniture range has exactly what you're looking for.
Create your dream office
The white home office needs to work overtime today, with more of us working from home than ever. Modern white office furniture needs to provide the storage you need, include a white built-in desk, and provide you with an ergonomic solution to keep you safe while you work. That's where our bespoke white office furniture sets can help.
Bespoke solutions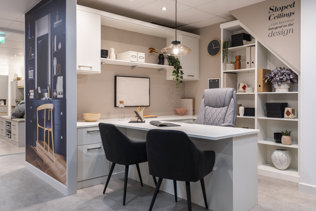 Is your home office tucked away in an awkward nook or under a sloping roof in the depths of your loft? No worries, Hammonds' design specialists can cater for almost every space, ensuring you get a seamless finish from our white home office furniture sets – that's the goal of our custom-fitted home office solutions.
Need Inspiration?
Refine your vision for your home office by booking a free design visit and source further inspiration from our magazine, free brochure or blog.