Wooden Home Office Furniture
We believe an office is more than just a desk – it's a beautiful and functional space for you to build and create. Our stunning wood office furniture caters for your individual style whilst creating purposeful spaces and clever storage solutions to help you utilise your room to its fullest potential.
Custom-made office designs
Creating a wooden home office allows you to create an atmosphere of tranquillity, sophistication and productivity. Whether you need a desk, storage, shelving or more, our bespoke designs build a space that adheres to your needs. Our range of wooden home office furniture is designed with style in mind, offering you a variety of colours, tones and styles to suit you.
Create your dream space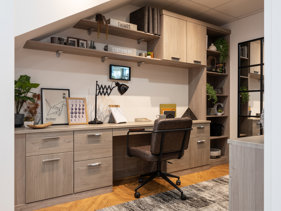 Browse our selection of solid wood office furniture and design your dream space. We have rich dark wood office furniture, for a classic and refined look, natural wood office furniture if you want to keep your room light, and all options can be custom-made to your room – helping your dream become a reality.
Need Inspiration?
Refine your vision for your home office by booking a free design visit and source further inspiration from our magazine, free brochure or blog.