Decorative Home Office Furniture
We understand that your home communicates who you are. No matter what your personal style or taste is – contemporary classics or ornate detailing – you'll want to make sure your home office communicates who you are to the letter. That's where our range of decorative home office furniture comes in.
A decorative office needs to work hard
A decorative office needs to work hard. Functionality needs to meet style head on to give you the perfect balance when you're working from home. Our decorative home office solutions certainly meet all the requirements. We can provide clever office storage hacks that fit around you, and our decorative home office furniture ensures all your needs are met.
Decorative home offices for every style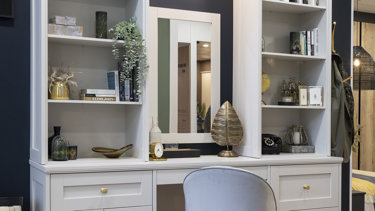 Book a free design visit
Our free home design visit is the key to creating clever, beautiful storage. Whether we're designing a clutter-free bedroom, an organised home office, or a calmer living space – our intention remains the same… How can we help you live better? From the moment we arrive we're listening to you, chatting and thinking about how we can cleverly design your space to meet your needs. We'll talk inspiration and style…Then we'll get to work – first measuring up and then bringing your room to life, tweaking and tailoring until your 3D design is just right.
Book a Free Design Visit
Need Inspiration?
Refine your vision for your home office by booking a free design visit and source further inspiration from our magazine, free brochure or blog.