Luxury Home Office Furniture
If your job is home-based, indulge in a beautiful space to work in. Giving the room you're in all day a deluxe feel could be the perfect update. Our extensive luxury home office furniture can transform your current setup and help you feel relaxed and motivated.
Custom-built luxury
Adding luxurious flourishes can give your home interiors a decadent feel. We offer luxury fitted home office furniture that looks beautiful while still delivering practicality.
Take your pick from our four luxury ranges. Croft offers opulent, shaker-style furnishing. Langton, on the other hand, is a bold, Art Deco range, while Linje, in contrast, is a series of balanced lines and Scandi-inspired simplicity. Marden delivers subtle, elegant flourishes. There's a range here to suit your personal style.
Clever storage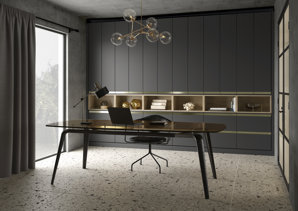 Seamlessly blend beautiful designs with clever storage solutions when you choose Hammonds. Each piece of fitted furniture is designed to suit your needs, whether you require extra shelving or built-in cupboard space. Our team of experts work with you to create the luxurious home office that you've always dreamt of.
Need Inspiration?
Refine your vision for your home office by booking a free design visit and source further inspiration from our magazine, free brochure or blog.