Modern Classic Home Office Furniture
Want the best of both worlds? At Hammonds, we specialise in blending contemporary designs with classic lines. If you're reimagining your current work from home setup, allow us to introduce you to our modern classic home office furniture collection.  
Match your aesthetic
We know that you have your own personal taste. That's why we treat all our customers as individuals and offer a range of modern classic designs to suit different home office setups. With our range of custom fitted furniture, we match your aesthetic and meet your storage needs.
Clever storage solutions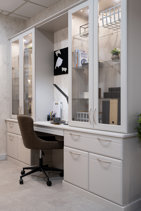 Whether you choose our Libretto range, with its timeless styling, or Seton, our beautifully modern shaker design, you'll find that each option offers storage solutions. Should you need to free up floorspace, we can craft built-in, custom-made cupboards, shelving, drawers and more. We can update the most awkward corners, building an office that's uniquely yours.
Expert team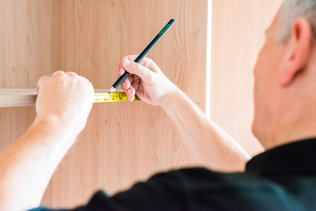 Our expert team of designers delivers the highest-quality service. We work with you to realise your vision and bring a near century's worth of experience to each home we reimagine. So, when you choose us to build made to measure, modern classic office furniture for your home, rest assured that it's made from only the finest materials by a skilled team of professionals.
Need Inspiration?
Refine your vision for your home office by booking a free design visit and source further inspiration from our magazine, free brochure or blog.