Painted Home Office Furniture
Create the perfect painted home office. With Hammonds, you can get your home office designed just right – making all the difference between a good day at work and a stressful one. Our painted study furniture helps you to get the look you want and have a more enjoyable time working from home.
Perfect painted solutions
Hammonds can help create the ideal painted solution. Our team are adept at designing essential storage solutions, built-in desks and fitted bookcases that deliver style in even the most awkward of spaces. Our home office range is ideal for creating what you need, where you need it. Eliminating the mess, stress and daily drama of a home office that doesn't suit you.
A range of services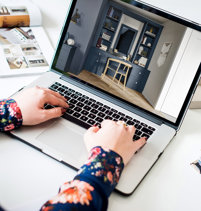 At Hammonds, we understand that choosing the perfect painted home office furniture can be difficult. That's why we're here to help. We offer a range of services to help you decide on the right fitted furniture for you. You can book a free design visit with a member of our expert, friendly design team, to help you visualise you dream painted study.
Need Inspiration?
Refine your vision for your home office by booking a free design visit and source further inspiration from our magazine, free brochure or blog.