Bespoke Bookcases
If you need an eye-catching feature to your living room, a bespoke bookcase could be the perfect solution. There's nothing worse than four plain walls in a lifeless room. While minimalism still has its place in the current interior trends, panelled walls and fitted bookcases and shelves are making a rapid return.
Decorative alcoves
An alcove is an ideal place to install some bookshelves, creating a great focal point out of an often-underused part of your living space. Not only do these handy built-in units help increase the available storage in your home, but they also make a striking centrepiece within any room.
Intertwining old and new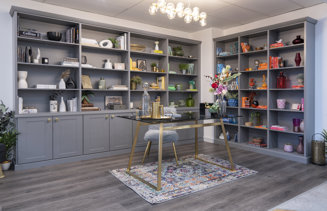 By pairing minimal tones with a traditional fitted bookcase, you can successfully intertwine the old and the new, bringing a fresh, trend-forward feel to your home. This is also a great way to inject contrast and texture into your space, as the wooden shelving of a bespoke bookcase can add another dimension. We have decades of experience in taking empty corners of your home and transforming them into beautiful purpose-built features.
Need Inspiration?
Refine your vision for your living room by booking a free design visit and source further inspiration from our magazine, free brochure or blog.