Gloss Fitted Furniture
Looking to add a touch of glamour to your home? Not only is our gloss fitted furniture sleek and handsome but it can also free up precious space in your home. With a range of styles available, you're sure to find something suitable right here in our collection.
Polished and bold
The high-shine finish of our gloss fitted furniture adds a vibrant and modern appearance to any room. Reflecting light more than standard paints, it can help to make even the darkest corners of your home appear bigger and brighter — creating a stunning visual impact.
Bespoke service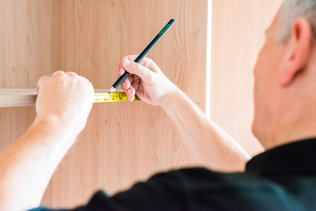 When you choose Hammonds, you're signing up for a full-package, custom service. All the way from designing your gloss built-in furniture to installing it, we'll take care of everything. All that you need to do is to tell us your vision and our expert craftsmen will work tirelessly to turn it into a reality.
Need Inspiration?
Refine your vision for fitted living by booking a free design visit and source further inspiration from our magazine, free brochure or blog.