Wooden Fitted Furniture
Never settle for just one of beauty and practicality. Our clever storage solutions give you the best of both worlds. Exquisite and versatile, our custom wooden fitted furniture blends seamlessly into your existing interior design — adding warmth and homeliness to any room.
Natural and warm
When it comes to natural beauty, nothing compares to a wooden finish. Our wooden fitted furniture adds a feeling of warmth and rustic cosiness to any room. We offer a range of natural wood finishes ranging from light to dark tones, allowing you to choose the option that best complements your home's unique style.
Smart storage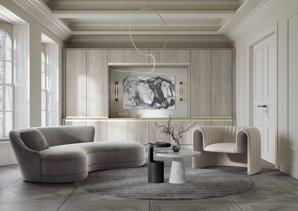 Looking for a clever storage solution that blends seamlessly into your interior? Look no further than our wooden built-in furniture. We'll survey your home and find smart ways to make the most of any unusual or awkward spaces. Since we always tailor our designs to your individual needs, they're sure to be a perfect fit.
Need Inspiration?
Refine your vision for fitted living by booking a free design visit and source further inspiration from our magazine, free brochure or blog.