Modern fitted furniture
We have many bespoke fitted furniture options available that can help you transform your home into the sanctuary you deserve. Our contemporary designs are made to measure and come in a selection of sleek finishes. Whether you're looking for custom living-room cabinets or floor-to-ceiling storage, our modern fitted living range is ideal.
Complement your aesthetic
We appreciate that every customer has a unique sense of style and will want different things from their modern built-in furniture. That's why we offer an extensive selection of versatile and exciting ranges that complement a variety of décors. You'll find minimalist designs complete with clean lines and a subtle palette, but we've also got something for more luxurious and dramatic tastes.
Custom-built for your space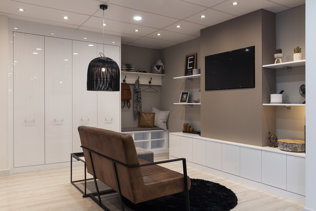 No matter how awkward the shape of a room is, our bespoke fitted furniture is made to measure and custom-designed to fit your space. From wasted space underneath the stairs to an unused alcove in your hallway, Hammonds has built-in storage solutions that will make the most of it. You can bring a sense of order and organisation to your home without missing out on style.
Choose the little details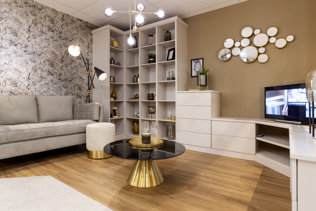 Take your pick from a wide selection of timeless finishes that give your home a contemporary edge. Choose a sleek gloss to finish your modern built-in furniture for a glamorous yet uncomplicated touch. Or maybe an elegant painted finish in colours ranging from classic monochromes to vibrant blues and greens are more to your taste.
Need Inspiration?
Refine your vision for fitted living by booking a free design visit and source further inspiration from our magazine, free brochure or blog.