Beige Fitted Wardrobes
You want your bedroom to be a welcoming space where you can curl up and relax after a long day. Beige is a calming neutral tone that adds a touch of warmth, making it an ideal colour choice for your fitted wardrobes.
Match your aesthetic
There is the misconception that beige is boring, but the benefit of neutral shades is that they won't disrupt your existing décor – only complement it. Custom beige fitted furniture gives your space a sense of cohesion while giving you the chance to experiment with bolder colours elsewhere in your bedroom.
Versatile designs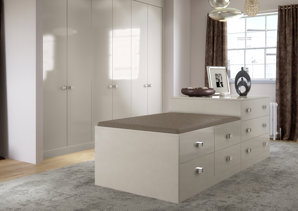 Beige is a classic shade with plenty of personality that, when paired with the Hammonds range of versatile designs, can truly revitalise your space. Select beige built-in wardrobes in the Elkin range for a clean and modern look. Or maybe our Croft made-to-measure bedroom furniture is more your style with its chic combination of Shaker simplicity and elegant sophistication.
Get help with Hammonds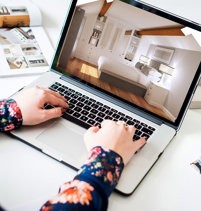 Want to know more about how we can help you design the bedroom of your dreams? You can visit us at your nearest showroom, request a free brochure or fill out our online form. If you've already got your eye on one of our beige fitted wardrobes, book a design visit to discuss your choice with one of our experts.
Need Inspiration?
Refine your vision for your bedroom by booking a free design visit and source further inspiration from our magazine, free brochure or blog.