Black Fitted Wardrobes
Bring a sleek and contemporary look to your bedroom with our black fitted wardrobes. Whether you're looking to design a luxurious master bedroom or elegant guest room, look no further than our black built-in bedroom furniture. Pair it with a full-length mirror or gloss finish for an opulent final touch.
The right colour for you
Choosing black for your fitted bedroom furniture may seem like a bold choice, but it's a timeless classic that makes a striking addition to your home. When matched with light walls and accents, your black made-to-measure wardrobes can give an elegant, monochromatic feel. You can find our black fitted wardrobes available in a variety of different styles, including the soft and subtle Linje range.
Practical interiors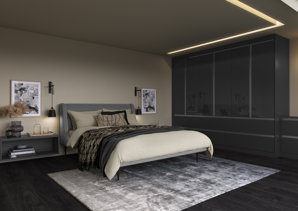 Book a free design visit
Our free home design visit is the key to creating clever, beautiful storage. Whether we're designing a clutter-free bedroom, an organised home office, or a calmer living space – our intention remains the same… How can we help you live better? From the moment we arrive we're listening to you, chatting and thinking about how we can cleverly design your space to meet your needs. We'll talk inspiration and style…Then we'll get to work – first measuring up and then bringing your room to life, tweaking and tailoring until your 3D design is just right.
Book a Free Design Visit
We're here to help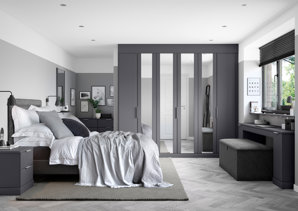 Need Inspiration?
Refine your vision for your bedroom by booking a free design visit and source further inspiration from our magazine, free brochure or blog.