Green Fitted Wardrobes
Bedrooms need to be restful and calming; this is where our green fitted wardrobes come into their own. Soothing and versatile, green built-in bedroom furniture is ideal for those looking for a touch of bold, contemporary flair and subtle style – and there are multiple ways you can achieve it.
Paying attention to detail
The custom finishing touches to your green fitted wardrobes can make all the difference. That's why we have an extensive variety of choices when it comes to the little details. From mirrors and handles to trendy stools and headboards, you can create a chic contrast or complement your existing colour scheme.
Maximising your space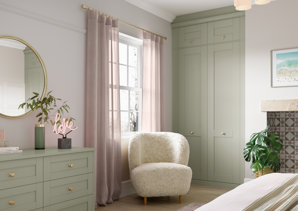 We understand that every property is unique and may be tricky to find suitable furnishings. If you think your space is limited because of an inconvenient alcove, sloping ceiling or troublesome corner, you'll be happy to hear that Hammonds has green fitted wardrobes for you. Our built-in furniture is made-to-measure and designed specifically to fit your space.            
Timeless designs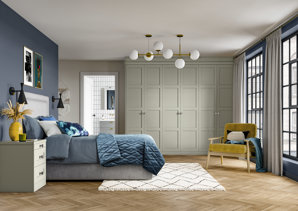 Hammonds is here to help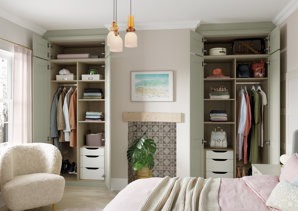 There are many green fitted wardrobe options to choose from, but we're here to help if you need some assistance. For some style inspiration, you can request a brochure. If you've already found green built-in bedroom furniture that ticks all your boxes, why not book a design visit and discuss it with our experts?
Need Inspiration?
Refine your vision for your bedroom by booking a free design visit and source further inspiration from our magazine, free brochure or blog.