Gloss Fitted Wardrobes
Are you looking to add an extra splash of shine and sparkle to your bedroom? Are you seeking an elegant, efficient solution to your storage problems? Allow Hammonds' gloss fitted wardrobes to provide the perfect answer. 
Maximising your space
A built-in wardrobe offers priceless practicality when it comes to housing all your clothes, shoes and other accessories. Our expert designers can craft yours to maximise your space, allowing for any tricky corners or sloping ceilings. But a fitted closet is only as good as its crowning touch, and that's where our high-gloss wardrobes come in.
Enhancing your space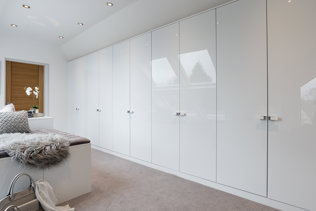 Incorporating gloss fitted wardrobes can give your bedroom a bright and airy feel, as they reflect the light rather than absorb it in the way a wooden or matt finish might do. This can prove especially beneficial for smaller or darker spaces and, if your built-in closet is going to be the centrepiece, a high-gloss finish will enhance the other features in the room.
Need Inspiration?
Refine your vision for your bedroom by booking a free design visit and source further inspiration from our magazine, free brochure or blog.