Matt Fitted Wardrobes
Bring a contemporary and cool look to your bedrooms with our matt fitted wardrobes. Whether you're looking to create a calming master bedroom, a restful guest room, or even a space where children can sleep and play, our range of matt fitted wardrobes can offer the finish you're looking for.
Choose your aesthetic
Available in a variety of styles and colours, our matt white wardrobes are perfect for a modern and minimalist aesthetic, while our textured wood grain matt fitted wardrobes in finishes Driftwood, Tuscan Oak and Anthracite provide a contemporary twist to period properties. Helping you save space with clever interior storage solutions, our matt fitted wardrobes complete and complement your home. 
Versatile structures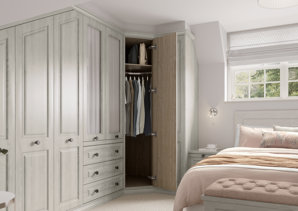 Crafted to be both beautiful and versatile, our matt fitted wardrobes can be customised to suit your needs. Select mirrored, angled or bi-fold doors and then get to work choosing the ideal wardrobe layout. For contemporary design-lovers, our aluminium system offers both style and substance. Or, if space is at a premium, our front frame wardrobes are designed to accommodate wall to floor hanging.  
Tailored designs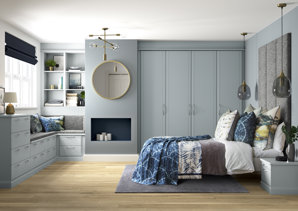 However large or small your bedroom, whatever style you want to achieve, we work closely alongside you to design the bedroom of your dreams. From colour combinations to different finishes, clever storage solutions to matching furniture, your matt fitted wardrobes will be specifically tailored for you.
Need Inspiration?
Refine your vision for your bedroom by booking a free design visit and source further inspiration from our magazine, free brochure or blog.