Mirrored Fitted Wardrobes
Transform your bedroom with a fitted mirrored wardrobe. The reflection of natural light gives the illusion of a larger, brighter bedroom, as well as offering you the practicality of a full-length dressing area. Perfect for any sized room, our built-in mirrored wardrobes have been meticulously designed with modern life in mind.
Contemporary designs
Our extensive collection of mirror fitted wardrobes includes contemporary mirrored wardrobe doors from ranges such as our Harpsden  collection, offering you a selection of neutral and modern colour palettes. Our wood-grain framed mirrored wardrobe doors from our Langton  and Croft  ranges complement classic interiors.
Bespoke solutions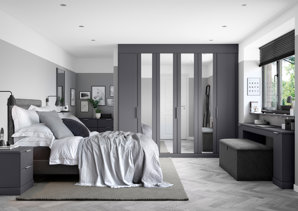 Crafted from only the highest-quality materials, our mirrored fitted wardrobes can be customised with bespoke storage solutions. You can also match furniture to create a cohesive bedroom scheme. Meanwhile, our 'mix and match' built-in mirrored wardrobes mean you can showcase your style while creating a practical space for your treasured belongings.
Need Inspiration?
Refine your vision for your bedroom by booking a free design visit and source further inspiration from our magazine, free brochure or blog.