Painted Fitted Wardrobes
With so many colours available, it's easy to create the sanctuary you've always dreamed of with our painted fitted wardrobes. Whether you're looking to complement the wall colour or wallpaper design, or perhaps you're looking for painted wardrobes that offer a contrasting shade, then our painted built-in wardrobes could be ideal.
Transform your space
The right colour can transform your bedroom into the oasis you've always wanted. White painted wardrobes create a light and airy feel – like fresh linen. Meanwhile, darker painted fitted wardrobes can transform your space into a cosy room you can retreat to at the end of the day.
Practicality and style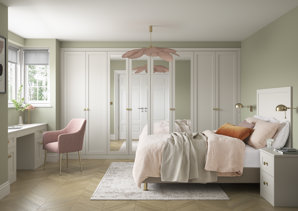 We understand that creating a personal space that showcases your personality, without compromising on practicality, is of the utmost importance. This is why with our in-house experts of designers and craftspeople, we can help you create the painted fitted wardrobes. Book a free virtual design visit or request a free brochure for more inspiration.
Need Inspiration?
Refine your vision for your bedroom by booking a free design visit and source further inspiration from our magazine, free brochure or blog.