Modern Fitted Wardrobes
We appreciate that everyone's tastes are different, and one person's idea of a dream bedroom is very different to another's. While some may prefer a traditional look, others might be seeking a more contemporary aesthetic to match the design of the rest of their home. That's where Hammonds' modern fitted wardrobes can help.
Integrating practicality
A modern wardrobe needs to be two things – efficient and stylish. Our range certainly ticks both of those boxes. We can provide you with ample storage space for all your formal attire, casual wear, coats, shoes and accessories, and our contemporary fitted wardrobes ensure all your things are kept behind an elegant façade.
Storage aplenty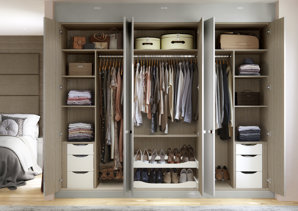 Our modern built-in wardrobes are ideal for easy and efficient storage and you can tell us how you want them to be made up. Need extra drawers for your watches and jewellery? No problem. Perhaps you need additional rails for business wear or more racks for your shoe collection? We can do that too. With Hammonds, your needs will always come first.
Need Inspiration?
Refine your vision for your bedroom by booking a free design visit and source further inspiration from our magazine, free brochure or blog.