Traditional Fitted Wardrobes
Our goal is to deliver a tailored service that caters to your needs. We know that tastes vary and that some prefer a contemporary design whereas others might favour a classical look. If you're someone who falls into the latter category, then our traditional fitted wardrobes could be perfect for you. 
A bespoke safe haven
The bedroom is perhaps the most important room in the house – it's where we relax, unwind and get our rest on an evening in preparation for the following day. With that in mind, it's important that you see your bedroom as a safe haven for you to retreat to, and our classic fitted wardrobes can make the most of the available space thanks to their elegance and efficiency.
Personalised Solutions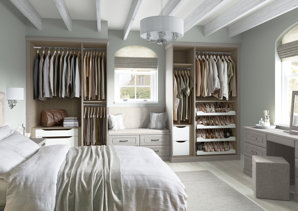 Installing a classic wardrobe does not mean you're restricted in your options – far from it. The beauty of our traditional built-in wardrobes is that they can be created to suit your individual requirements. If you're someone with a large shoe collection, for example, we can implement extra racks. If your bedroom is an unusual shape then we can tailor the dimensions accordingly.
Need Inspiration?
Refine your vision for your bedroom by booking a free design visit and source further inspiration from our magazine, free brochure or blog.