Shoe Storage Ideas
If your shoe collection is spilling out of your wardrobe, maybe it's time to look at our innovative shoe storage ideas. At Hammonds, we believe that a well-ordered home is the key to a well-ordered life. Having streamlined wardrobe shoe storage will keep your footwear neatly tucked away and make your bedroom the calm, tranquil space you want it to be.
Our shoe rack collection
Whether you'd like to have everything organised on one of our wardrobe shoe racks or another of our shoe storage solutions, we have something to suit every individual collection. Everything has a space and everything will be in place with our wardrobe shoe racks.
Our pull-out shoe racks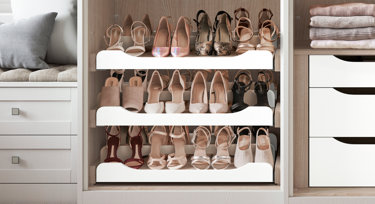 Why come to Hammonds?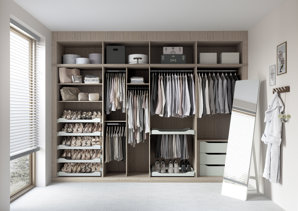 As you spend a great deal of time in your bedroom, you'll want to ensure it's as free from mess and as space-saving as possible. That's where our shoe storage solutions come into play. Packed neatly away into your built-in wardrobes, all your favourites will be accessible and your space kept tidy.
Request a free brochure to give you a better idea of the shoe storage solutions we have available. Alternatively, locate your nearest showroom and visit us in person, or give us a call to book your free design visit with one of our experts.
Need Inspiration?
Refine your vision for your bedroom by booking a free design visit and source further inspiration from our magazine, free brochure or blog.