Fitted Wardrobes in East Kilbride
With restaurants like Wee Gurkha Curry House and the Crooked Lum, a selection of top-ranking schools, and affordable housing, it's understandable why East Kilbride is one of the most desirable postcodes in the UK. Naturally, you want your house to reflect this vibrant community, so Hammonds has designed a range of bespoke fitted bedroom furniture so you can get the most out of your space.
Built in wardrobes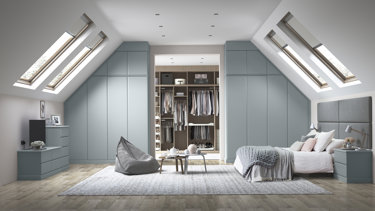 Transform your bedroom into the relaxing haven you deserve with one of our custom built-in wardrobes. A more efficient choice than freestanding wardrobes, choose from our practical Shaker options or modern luxury style to give your home some effortless elegance.
What does your ideal bedroom look like? You can request a brochure today if you're in need of some design inspiration or expert advice.
Walk in wardrobes in East Kilbride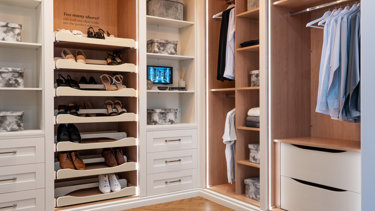 Have some extra space you want to take advantage of? Or maybe you're in need of a storage solution that keeps your ever-growing collection of clothes, accessories, and shoes under control? Our selection of bespoke walk-in wardrobes is the perfect luxury addition to your bedroom that keeps clutter under control while maximising your storage space.
No matter your style, your walk-in wardrobe can be effortlessly customised to blend seamlessly into your décor. Over 70,000  people are part of the vibrant community of East Kilbride and we're proud to offer each one the opportunity to transform their homes with our fitted bedroom furniture.