Black Sliding Wardrobes
Add a touch of drama with black sliding wardrobes. This colour is ideal for creating a sleek, sophisticated effect in any room. Take your pick from our custom fitted sliding wardrobes collection in this colour and make your space memorable.
Paint it black
Black sliding wardrobes are a chic choice for any bedroom. This is a colour that can transform a room and inform the rest of your décor.
While it's a powerful choice, it also matches with almost any other colour. You might opt for a monochrome bedroom, offsetting bold, black wardrobes with crisp, white walls. Alternatively, you might add a splash of colour, with a warm yellow or cool green. Whatever you have in mind, black is a brilliant beginning for your palette.
Built-in storage solutions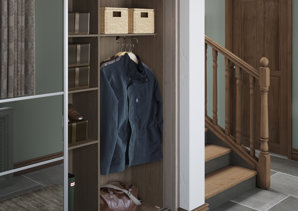 Sliding door wardrobes mean that there's no swing space needed for doors, freeing up floorspace in compact rooms and offering a smooth aesthetic. If you're planning on adding sliding wardrobes into a room with awkward dimensions or an unusual layout, let our expert team help. We can create custom, built-in storage that sits perfectly in any room.  
Need Inspiration?
Refine your vision for your sliding wardrobes by booking a free design visit and source further inspiration from our magazine, free brochure or blog.