Grey Sliding Wardrobes
At Hammonds, we understand that getting the colour scheme right is an essential part of creating a stylish bedroom. That's why our fitted furniture comes in a variety of beautiful colours – and our grey sliding wardrobes are a truly chic and stylish choice.
Why grey?
Grey is a hugely versatile shade that can be incorporated into a range of both modern and traditional bedroom designs. Whether you're dreaming of a muted colour palette or want to combine grey with pops of colour like mustard or navy, our grey sliding wardrobe doors will perfectly complement your décor.
Selection of finishes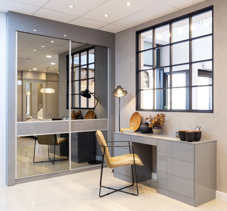 There's a wide range of styles and finishes to explore across our range. Those seeking a modern style may choose grey gloss sliding wardrobes that offer a sleek and shiny look, while those creating a traditional design may like our painted furniture which has a more matt finish. We can also create grey mirror sliding wardrobe doors for those wanting a light, airy feel and somewhere to check their reflection before a busy day or evening out.
Why choose Hammonds?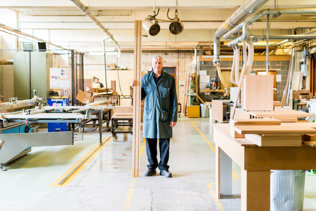 Whichever grey sliding wardrobe you choose, rest assured it will be carefully crafted using high-quality, sustainable materials – so you can enjoy them for years to come. Our team of experts manage every stage of the process, from the design to the manufacture and installation of your new grey sliding wardrobes. This ensures they are nothing short of exceptional.
Need Inspiration?
Refine your vision for your sliding wardrobes by booking a free design visit and source further inspiration from our magazine, free brochure or blog.