Glass Sliding Wardrobes
For a chic, sleek look in your bedroom, look no further than our range of glass sliding wardrobe doors. At Hammonds, we use beautiful, high-sheen materials to create your dream storage space, building a piece of furniture that's totally unique to you.
Enhance your space
A glass sliding wardrobe is a clever way to enhance the space as its reflective surface throws out light, creating the illusion of a larger room. By selecting a floor-to-ceiling wardrobe, you can maximise the light levels, making the bedroom seem bigger and brighter.
Plus, rather than opening out and taking up valuable floorspace, they seamlessly slide across, allowing you to browse your clothing with ease.
Customised to you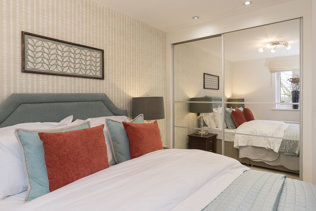 Whether you're looking for contemporary white glass or elegant frosted glass sliding wardrobe doors, we have the design skill and know-how to make your vision a reality – even in the rooms with the most awkward layouts. Plus, we'll customise the interior of each wardrobe so you can add an extra rail or incorporate drawers, even when space is at a premium.
Request a free brochure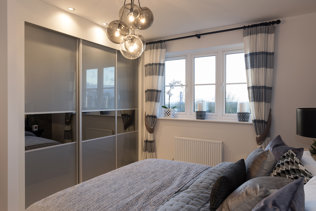 If you're looking for inspiration before you speak to us, take a look through our free brochure. When you're ready, you can contact us and we'll be happy to answer your questions about everything from our different sliding wardrobe glass door designs to the prices for each. From there, we'll book a free design visit, where a member of our expert team will pop over to your home and talk you through your options.
Need Inspiration?
Refine your vision for your sliding wardrobes by booking a free design visit and source further inspiration from our magazine, free brochure or blog.