Mirrored Sliding Wardrobes
Are you looking for a beautiful way to reimagine your bedroom? Maybe you have a compact space and want to introduce some clever storage options and design techniques to make the most of the room? A sliding mirror wardrobe from Hammonds could be exactly what you're looking for.
Stylish and practical
Sliding mirror wardrobe doors are a simple, yet sophisticated, way to enhance a room while saving space. As they effortlessly glide across, rather than open out like traditional wardrobe doors, they are practical without ever compromising on style, creating a neat and seamless effect.
Enhance your space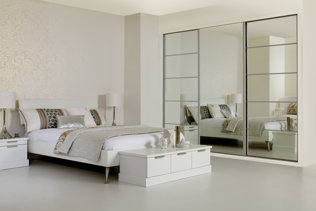 Our sliding mirror wardrobes from are customisable. Whether your bedroom has an unusual layout or you're maximising the space in the attic room, you can talk to our design team and they will create sliding mirror doors that are tailored to suit you.
To bring a beautiful sliding mirror wardrobe into your bedroom, request a free brochure, book a design visit and visit your nearest showroom today.
Need Inspiration?
Refine your vision for your sliding wardrobes by booking a free design visit and source further inspiration from our magazine, free brochure or blog.