Painted Sliding Wardrobes
Here at Hammonds, we know that incorporating the perfect colour scheme is essential for making a bedroom truly beautiful. That's why we've created a range of painted sliding wardrobes that are designed to complement a range of styles and tastes.
Modern storage solutions
Perfectly blending beautiful design with contemporary style, these wardrobes are ideal for those seeking custom-made storage solutions that look stunning in every space. They are expertly painted to seamlessly match your colour palette, enhancing and complementing the décor.
Style and function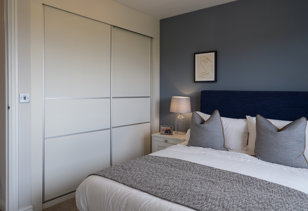 These painted sliding wardrobes free up floorspace, thanks to the doors that gently glide across and slot into place. This makes them an excellent choice for smaller bedrooms. Unlike traditional wardrobe doors that open out, this sliding alternative allows you to easily browse your rails and draws without having to worry about the constricted space.
Why choose Hammonds?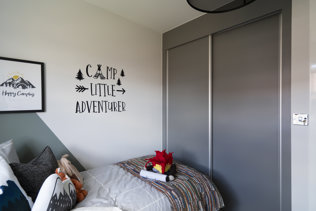 We can tailor your painted sliding wardrobes to suit the room, and specialise in catering for awkward spaces. Whether you're redesigning the attic and want a customised wardrobe to align with the sloped ceiling or you're trying to reimagine the awkward layout of the spare bedroom, you can count on us to build you a bespoke storage area.
Need Inspiration?
Refine your vision for your sliding wardrobes by booking a free design visit and source further inspiration from our magazine, free brochure or blog.