1-Panel Sliding Wardrobes
Our made-to-measure single panel sliding closet doors make the most of all available space – without intruding on your personal sphere of rest and relaxation. Thanks to our range of colours and finishes, we can design and create 1-door sliding wardrobes to your exact style and tastes.
Custom-made storage
No matter how limited, our 1-panel sliding wardrobes fit snugly into any space – even under a sloping ceiling. Our years of expertise and knowledge of latest trends combine to create made-to-measure storage solutions that can make a real and lasting difference to your wellbeing.
Modern aesthetics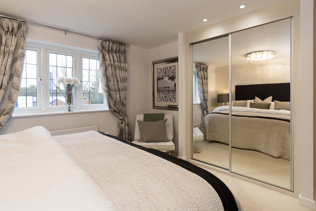 For a clean, crisp finish to your bedroom, single panel sliding closet doors are a light touch that add real depth. Understated or uber slick, a single panel sliding wardrobe is truly dressed to impress. And with mirrored panel options available too, so will you be. Explore your bedroom's potential today.
Why choose Hammonds?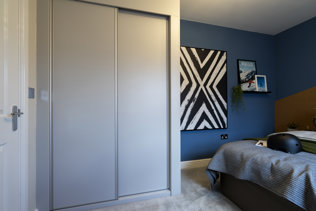 With bespoke and innovative storage solutions, your needs will be the centre of attention with Hammonds – perfect when limited space means your wardrobe can't afford to be.
Pop down to your nearest showroom or book a free design visit now and start shaping the bedroom you've always wanted. We'll take control of the process too – from the design and creation of your new 1-door sliding wardrobe through to the installation.
Need Inspiration?
Refine your vision for your sliding wardrobes by booking a free design visit and source further inspiration from our magazine, free brochure or blog.