5-Panel Sliding Wardrobes
Offer extra definition to any sliding wardrobe with five separate panels on each door. Providing an ultra-modern and super-sleek look for any interior area, style and substance is certain to go hand-in-hand. Our design experts are on hand to ensure you receive your ideal storage solution.
Stylish sliding designs
With our 5-panel sliding closet doors, each panel must have the same finish. But, after that, the choice is all yours. Mix and match a high-sheen door in a Frost finish with a door in Noir glass to create a striking focal point in your room. Or contrast mirrored panels with wood-veneer doors.
Shop with Hammonds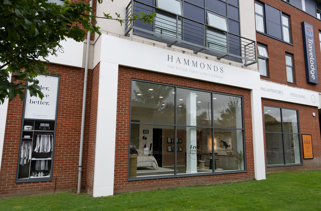 Grab the design initiative and create a bedroom that is all you. Any questions? Visit your nearest showroom or book your free design visit with one of our experts. You'll get a clearer idea of how our 5-panel sliding closet doors can work in perfect sync with your home. Inclusive design, exclusive solutions – all tailor-made for you.
Need Inspiration?
Refine your vision for your sliding wardrobes by booking a free design visit and source further inspiration from our magazine, free brochure or blog.