Traditional Sliding Wardrobes
For elegance and simplicity, look no further than made-to-measure traditional sliding wardrobe doors from Hammonds. Our modern space-saving solutions are designed to fit not just your space, but your tastes as well. Let our experts help you – and see how our extensive bedroom design knowledge can bring fresh life to your space.
Natural, sophisticated and totally bespoke
We believe it's possible to combine the form and function of sliding doors with a natural, classic finish. And that's what our traditional sliding wardrobe doors do. Built to your requirements and expectations, it's a style that's refined and sophisticated – no matter the range you choose.

Beautiful by design, traditional sliding wardrobe doors enhance your sense of tranquillity. Find the traditional wardrobe design that inspires you and watch us bring it to life.
Why Hammonds?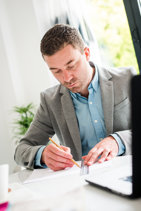 Our team is committed to making sure that each bespoke solution we design reflects your personality. Made to measure and built to last, we'll shape your dream bedroom your way. Our exquisite range of traditional sliding wardrobe doors can make that happen.
We're here to help you narrow down your ideas. But our service doesn't end there. We take care of the build and installation too – seeing the transformation of your personal haven right through to completion.
Need Inspiration?
Refine your vision for your sliding wardrobes by booking a free design visit and source further inspiration from our magazine, free brochure or blog.