Sliding Wardrobe Styles
Your bedroom is a personal haven of rest and relaxation. But the wrong storage solutions can feel imposing and unsettling. That's why we offer a beautiful range of sliding closet door styles. No matter what inspires you, we'll help you find the sliding wardrobe style that fits effortlessly into your bedroom.
Create more space
Is space at a premium in your bedroom? Our single-panel sliding closet door style could be the ideal option to maximise your existing space. If you have more room to play with, or more clothes to find a home for, our 5-panel sliding wardrobe style is a perfect solution. Modern or traditional, there's no right or wrong. The choice is always yours.
Why choose Hammonds?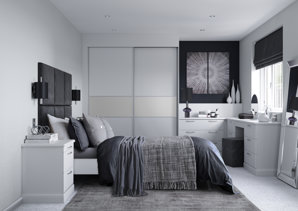 From modern apartments to traditional cottages, we pride ourselves on helping you create the bedroom of your dreams. Our sliding closet door styles can bring new life to even the smallest spaces with our dedication to designing creative, stylish storage solutions. Our team work with you to bring peace and harmony to your bedroom. From our initial sliding wardrobe style ideas right through to installing them, you can trust us to take care of the whole process.
Book a free design visit
Our free home design visit is the key to creating clever, beautiful storage. Whether we're designing a clutter-free bedroom, an organised home office, or a calmer living space – our intention remains the same… How can we help you live better? From the moment we arrive we're listening to you, chatting and thinking about how we can cleverly design your space to meet your needs. We'll talk inspiration and style…Then we'll get to work – first measuring up and then bringing your room to life, tweaking and tailoring until your 3D design is just right.
Book a Free Design Visit
Need Inspiration?
Refine your vision for your sliding wardrobes by booking a free design visit and source further inspiration from our magazine, free brochure or blog.