2022 trends: Under-stairs furniture ideas
| Hallway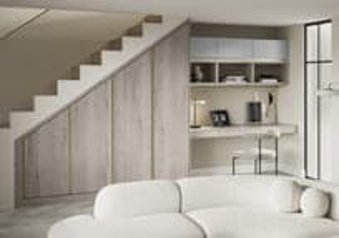 2022 trends: Under-stairs furniture ideas
If you need a little bit more storage in your home, why not make the most of the space under your stairs? It might currently be hiding old, dusty coats and forgotten bits and bobs, but it could be transformed into something exciting. Whether you need to make room for winter coats or a growing collection of shoes, let us inspire you to find a purposeful, practical solution.
Discover under-stairs shoe storage ideas
If you're constantly tripping over shoes left in your hallway, it could be time to start exploring options for a new, tidier storage solution. A simple shoe rack could do the trick – and you should be able to find one quite easily without breaking the bank.
Whether you choose a basic wooden shoe rack or a refined piece of furniture that complements your household interior, there are plenty of ways to bring to life your under-stairs shoe rack ideas.
Install bespoke under-stairs wardrobes
If you'd rather hide your belongings, a built-in wardrobe unit could reinvent that awkward space under the stairs. It's a fantastic solution if you'd prefer something subtle but stylish, keeping your belongings tucked away out of sight. You can create an attractive feature tailored to the architectural design and colour scheme of your home.
Why not install shelving inside a bespoke fitted wardrobe to revolutionise your household storage, especially if you're looking specifically for under-stairs shoe storage ideas? Making life a little bit easier for the whole family, a fitted wardrobe with painted, gloss or solid-wood finish could make a statement feature in your hallway. If you like to be organised, you could even designate a shelf for each member of the family.
Upgrade your under-stairs into a pantry
With a few shelves, drawers and clear containers, your under-stairs space could be converted into a useful dry store. Particularly handy if your stairs are near the kitchen, a pantry could make for an exciting project to improve your family home.
If you have room for renovation, why not extend your pantry into the depths of the alcove under the stairs? Plus, with the right lights installed, you'll easily be able to find room for all the kitchen dry-store essentials. Just keep the logistics of hallway traffic in mind when you're planning how any pantry drawers or cupboards should open.
Create a cosy nook for the family
Sometimes, we just need somewhere to take a bit of time out. If you're lucky enough to have a deep staircase, why not rework the space underneath it into a cosy reading nook? With minimal technicalities, a small alcove hollowed out with a comfortable cushion over a bench seat could make a fantastic spot in which to unwind.
Or, if you have young children, why not make an exciting new space or even a playroom? With a lick of paint, a few cushions and a curtain to hide behind, you could make a cosy corner for playing with toys, watching movies or simply hiding away.
Consider under-stairs furniture ideas for entertaining
This one relies on a little bit more space. However, if you're lucky enough to have a roomy hallway, why not design and create your very own minibar? Perfect for entertaining guests regardless of the time of year, a cocktail bar could represent the most rewarding under-stairs furniture idea.
Whether you're into gin, vodka or whisky, with a fitted cabinet and a few shelves you'll be on your way to a convenient, stylish drinks station at home. Use glass panels to create a tempting display and get ready to indulge – responsibly, of course – with your family, close friends or neighbours.
Display your photos in the hallway
Whether you want to hang up your photographs on the under-stairs wall or create alcove shelving for a textured display, it's easy to make an attractive display for your favourite family memories.
Use paint that contrasts with the colour of your photo frames for a striking aesthetic or keep it minimalist with a neutral white or cream background. Displayed in your hallway, your memories will take pride of place in the heart of your home and make a showpiece feature for visitors to admire.
Make the most of your under-stairs space with our help
If you're thinking about working with the space under your stairs, consulting the advice of an industry expert could be what you need to turn your vision of a bespoke furniture or renovation project into reality.
Why not book a free design visit online today to make the first few steps in transforming your under-stairs space into something exceptional?
You bring the space, we bring the inspiration
Whether you have an exact vision in tow, or are just at the beginning stage of your home renovation, we have heaps of inspiration for you to get stuck into. 
Find a wealth of design tips, trends and inspiration in the pages of our brochure, magazine and on our blog. Our experts are always ready to help you create dream home, pop in store or book your free design visit for experts to help on bringing your vision to life.