5 things you need to know about fitted wardrobes
| Bedroom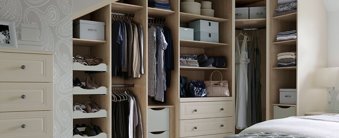 5 things you need to know about fitted wardrobes
If like most of us, you're looking for a little more storage in the bedroom, it's worth opening up the benefits of fitted wardrobes. As the name suggests, fitted wardrobes are designed specially to fit your bedroom. You can even create wardrobes in awkward spaces. Fitted wardrobes make the most of every inch of space, squeezing more storage into smaller areas and you'll never have the unsightly gaps you get from freestanding furniture.
Going for bespoke designed furniture gives you the freedom to choose every detail. So, you can select the exact storage solutions you need, tailor the interior of your wardrobe to suit your clothes and accessories and add your own design flourishes to every surface. Last but not least, investing in fitted bedroom storage can add value to your home, and create a feature that will make your home more attractive to prospective buyers in the future.
Here are five things to consider before you take your first steps towards fitted storage.
1.    Awkward space is still space
When we get used to a room, it's hard to see the potential of what it could be. So if you're trying to have a reshuffle and are considering fitted wardrobes as an option, try to see the area with fresh eyes. And don't let awkward angles put you off. The beauty of fitted furniture is it doesn't matter if you have low ceilings or a sloping roof – every inch can be utilised, because it's designed and tailored entirely to your room specification. If space is tight, you can opt for wall-to-wall sliding wardrobes, offering you a seamless storage solution in any size, colour or style without taking up too much space.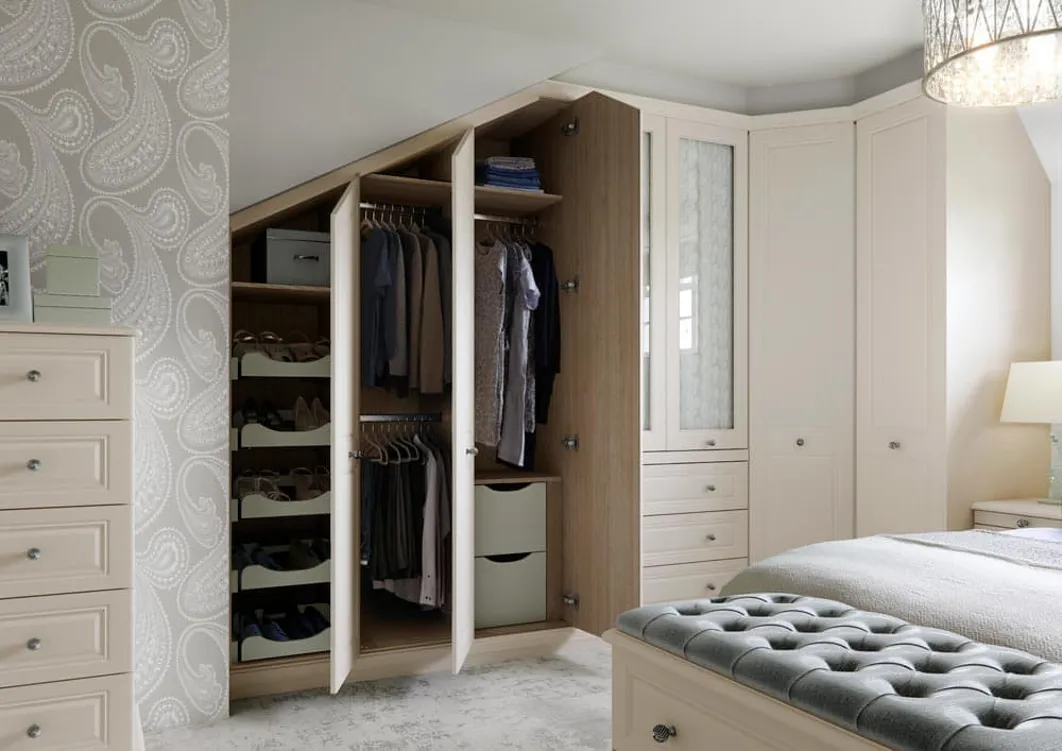 2.    Understand your storage needs
When you're planning your fitted wardrobes, take a closer look at your belongings. If you're wanting a storage system that provides a place for everything, it's good to know exactly what you'll be storing. The interior of fitted wardrobes can be entirely personalised to suit you. For example, if you have a bit of a thing for footwear, a pull out shoe rack could be the perfect, space-saving way to keep them tidy and organised. Keep your precious accessories, safe and sparkling with a personalised jewellery tray – it fits effortlessly within your drawers and lets you see everything at a glance. When it comes to customised storage we have a solution for everything, all you have to do is get creative.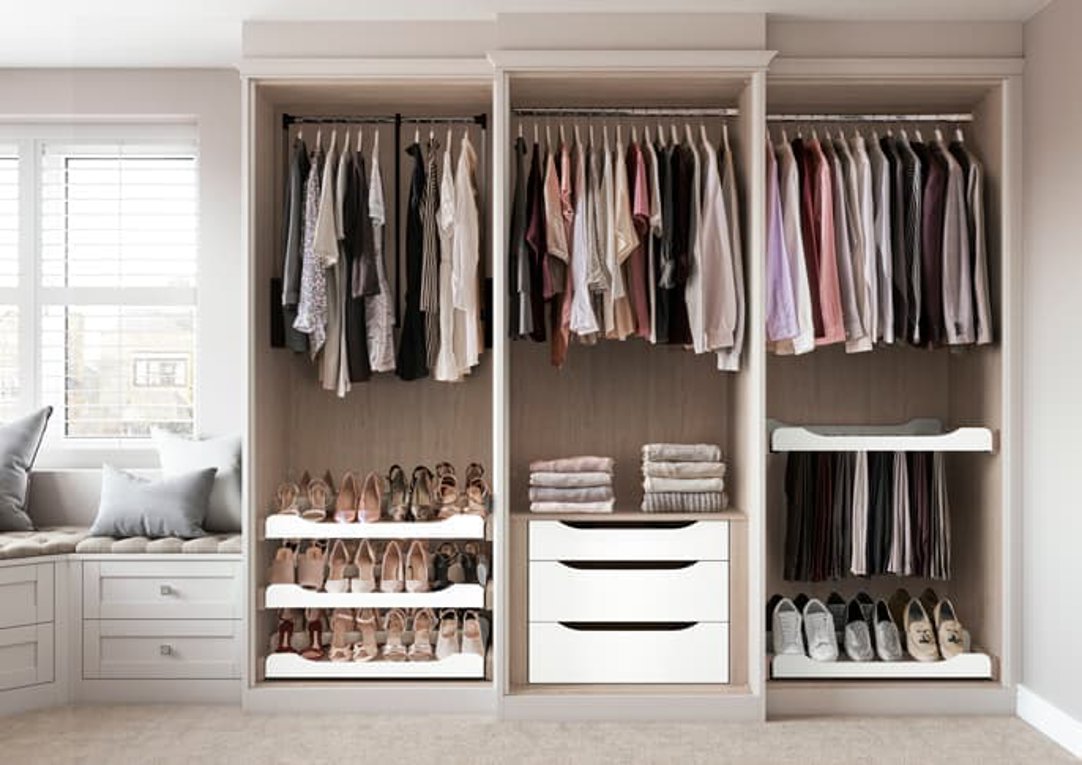 3.    Find the right design
When it comes to fitted storage, we are just as passionate about the form as we are the function. Wardrobes are a key feature in any bedroom, and they should reflect your personal taste and interior style – so you can truly make them your own. Opting for fitted wardrobes allows you to create the look you want and be as specific as you like with the design and details that matter. Have a look at your existing décor as a starting point and identify what style your bedroom is. This will give you a good idea of what kind of finish you will want. If a modern, contemporary style is your thing, have a look at high-gloss or mirrored surfaces or complement a warm and cosy interior with a natural wood grain like the Willoughby range.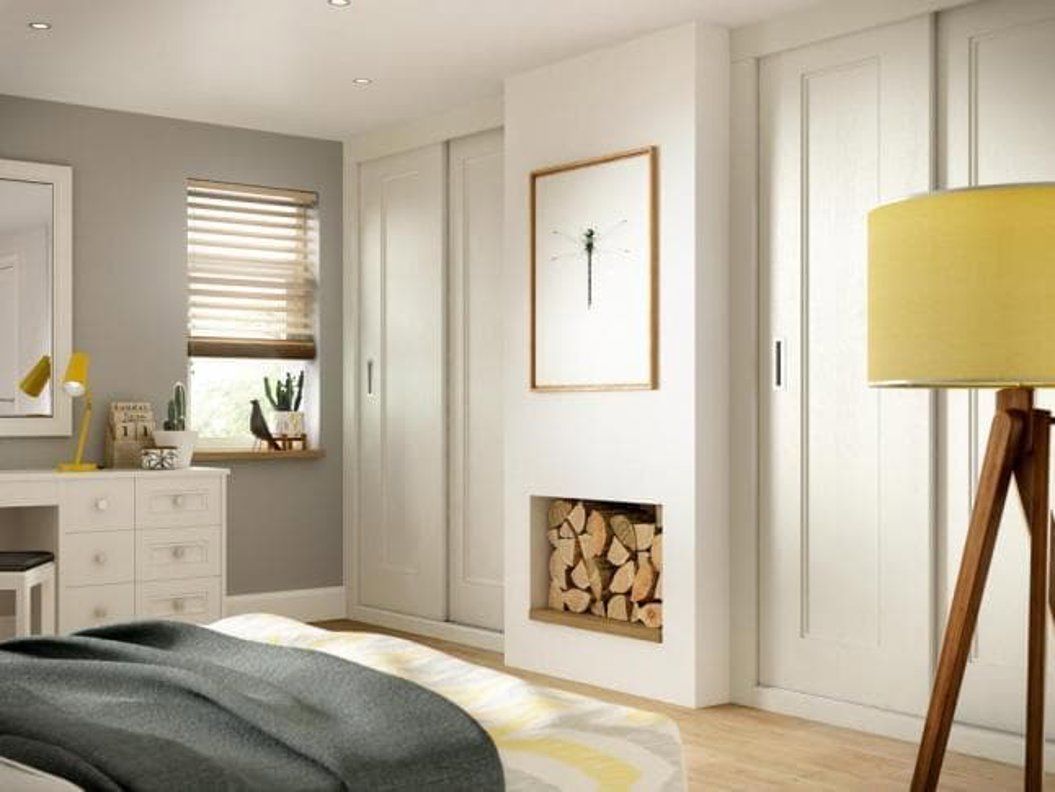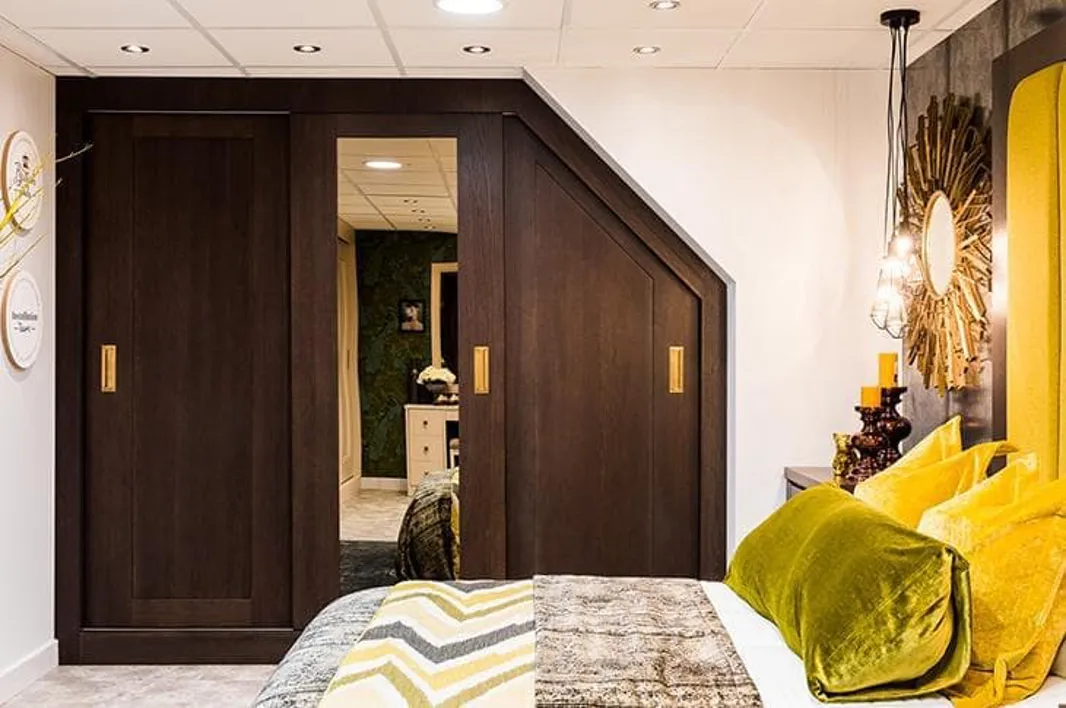 4.    Choose the right interior
Fitted wardrobes shouldn't just look great on the outside. That's why all our Wardrobe interiors are finished in Novanta Oak, and for the extra touch of luxury our storage features are highlighted with grained mussel and have soft close drawers as standard.
If you want flexibility to move your shelves or hanging rails in future, then opt for our Premium Storage wardrobes, or if you're short for space, go for a front frame with sliding wardrobe door fronts, this system has open backs and sides for maximum storage potential – we think Marie would approve.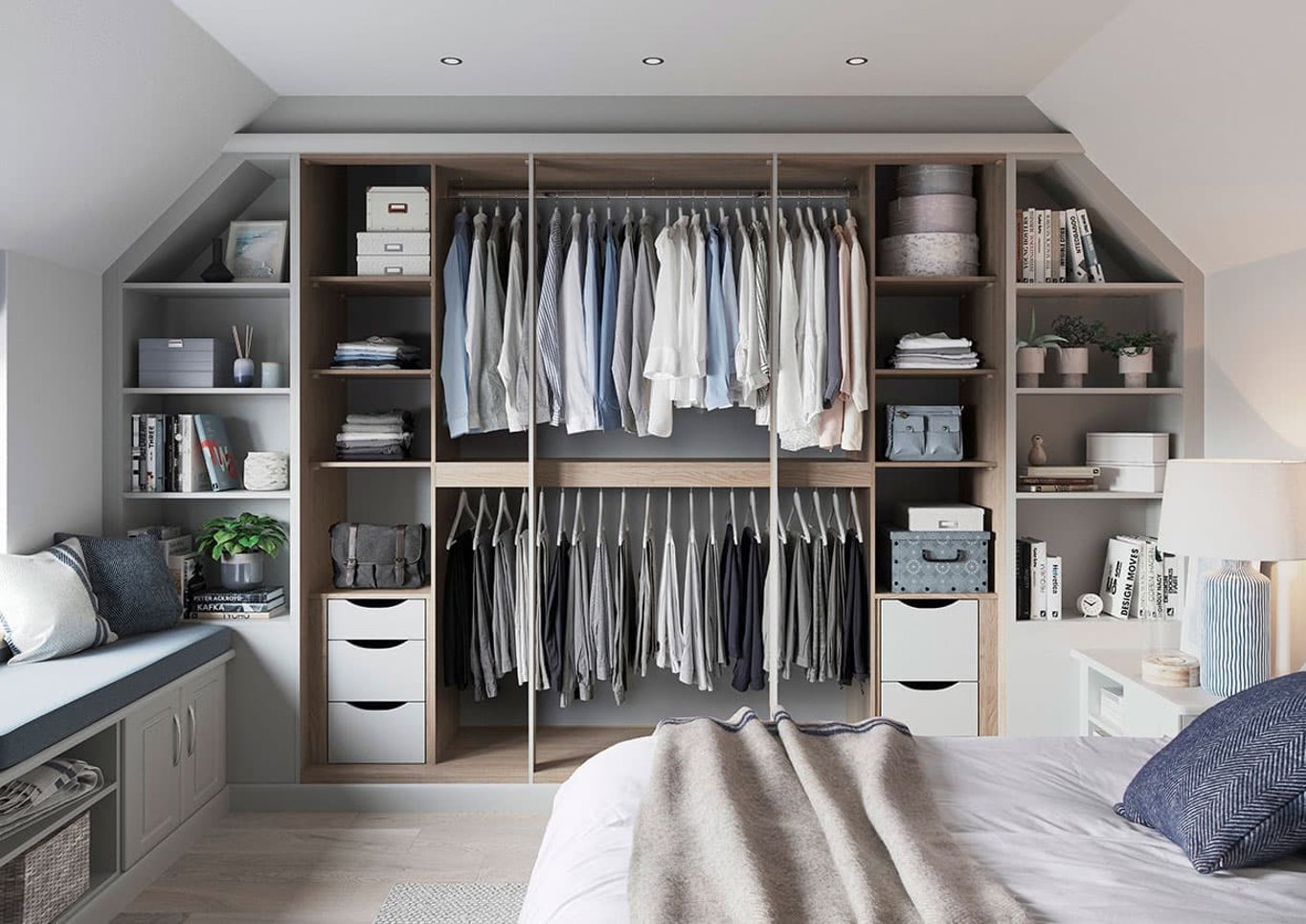 5.    Plan for the future
Fitted wardrobes can be a great investment, not only transforming your room but adding value to your home too. They're something you'll have for years to come. Choosing a timeless style is a future-proof way of ensuring that even if you switch up the design for your bedroom, your wardrobes will still fit effortlessly. All our fitted wardrobes are built to last, that's why they come with a 10-year guarantee – good to know.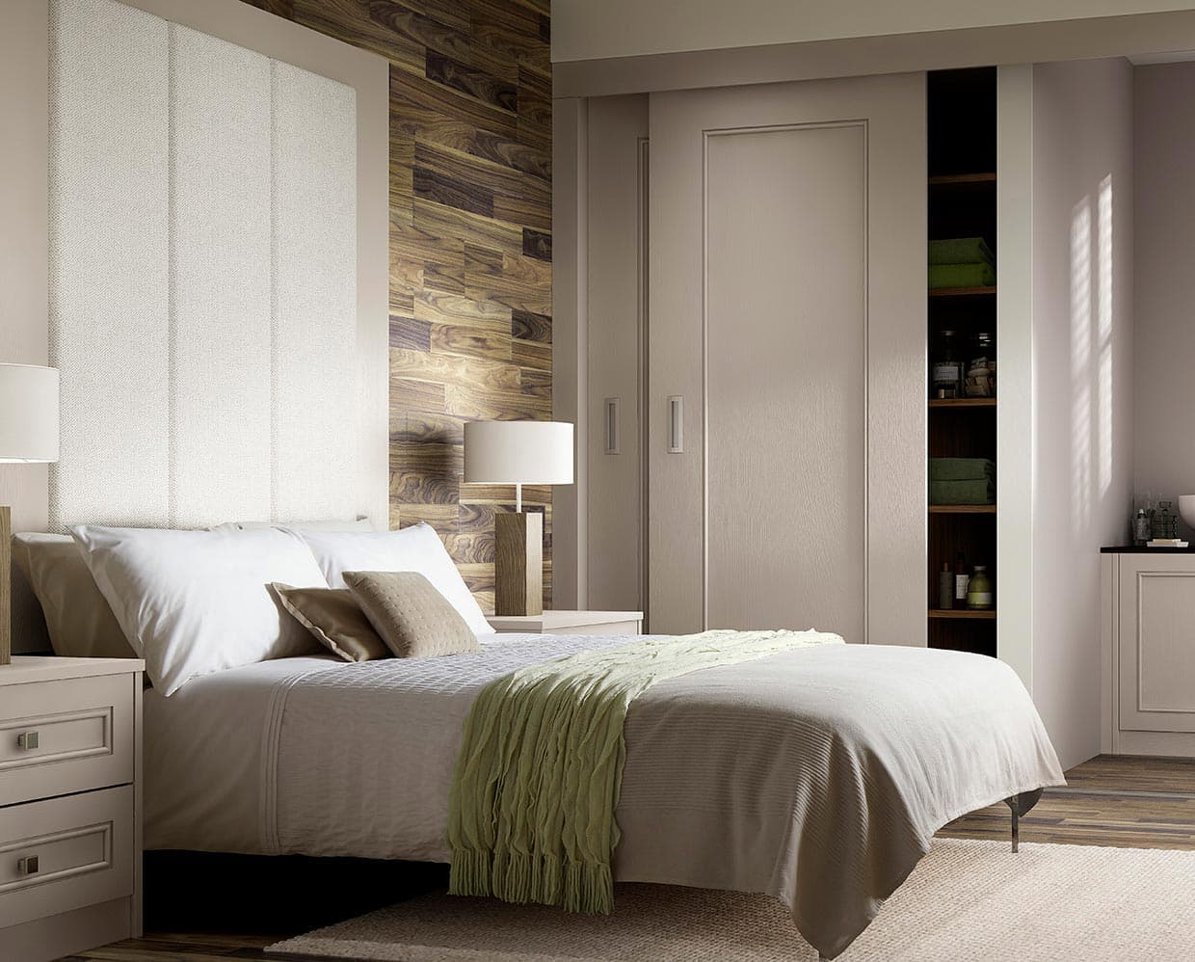 Last but not least, talk to a professional
Our design experts work closely with you to measure your room and work around any awkward angles to make the absolute most of your space. They'll also help you decide on what storage you need inside your wardrobes. Guiding you through all the available design options and little details that can make all the difference.
Book your free no obligation design visit today or pop in and see us in store to discuss how fitted wardrobes can transform your bedroom. Or request a free brochure today and find a style to suit your dream bedroom.
You bring the space, we bring the inspiration
Whether you have an exact vision in tow, or are just at the beginning stage of your home renovation, we have heaps of inspiration for you to get stuck into. 
Find a wealth of design tips, trends and inspiration in the pages of our brochure, magazine and on our blog. Our experts are always ready to help you create dream home, pop in store or book your free design visit for experts to help on bringing your vision to life.