5 ways to create the luxury bedroom of your dreams
| Bedroom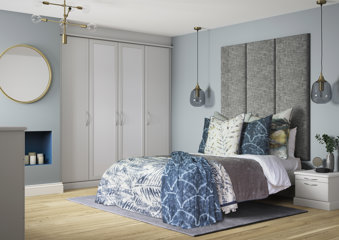 5 ways to create the luxury bedroom of your dreams 
The bedroom is your sanctuary, so why not make it a plush hideaway with a luxurious design? From decadent fabrics and super-soft bedding to indulgent décor and pretty additions, it's possible to create a high-end space that you'll love without breaking the bank.
Simply follow our top luxury bedroom interior design tips to help you reimagine the room and you'll get that wow factor in no time.
Invest in a statement mirror
A statement mirror is the ideal addition to a luxury bedroom. As well as being a practical choice for checking your outfit or applying a touch of makeup, it can transform how the room looks too.
This is because mirrors reflect natural light, which helps to brighten up the space - especially useful if your room isn't sun-facing during the day. Plus, they can often create the illusion of making a room appear larger. So, consider adding a full-length mirror to reap the full rewards of this handy piece of furniture.
Tidy up with bespoke storage
Cluttered floors aren't synonymous with luxury and a tidy space can promote relaxation. Therefore, finding a place to put your items out of the way is vital. Bespoke hidden bedroom storage like the options available at Hammonds can help with this as they tuck your belongings away while adding seamless, chic furniture to the space, enhancing the overall aesthetic.
So, whether you need a place to store your beauty products or a shoe rack for your footwear, hidden storage is the way to go.
Light it right with a dimmer switch
We all know how lighting is a real mood-setter in every room and the best way to control it is by using dimmer switches. This luxury bedroom idea lets you set different levels of light depending on your mood or activity.
A soft, dim glow is ideal for settling in for the night and can provide the right amount of light for reading before you sleep. Alternatively, you can turn it up to the brightest setting when getting ready so that you can make sure your every detail is flawless, and you feel as confident as possible when you leave the house.
Dimmer switches can also help to keep your energy bills lower too. This is because less energy will be used when they're on a lower setting. These will make your bedroom more energy efficient, which may save you money on your bills each month. 
Get organised with a walk-in wardrobe
A walk-in wardrobe is a dream addition for many people. If you've got the space, why not consider adding one to your bedroom? There's an array of built-in walk-in wardrobe options available at Hammonds that can be tailored to your requirements, transforming the space and making your dream closet a reality.
Not only are walk-in wardrobes a luxury bedroom storage idea, but they're also multi-functional. As well as strong clothes, they're perfect for stashing away everything from shoes to cosmetics, jewellery to accessories. This will ensure your bedroom is free from clutter.
Make your headboard a showpiece
The bed is the focal point of the room, so make it stand out with a luxe headboard. By choosing a vibrant colour, an interesting shape or maybe a decadent fabric, you can really make this a showstopping addition that draws the eye and adds an element of sophistication to the space. 
This will make your bed all the more inviting at night and is the perfect way to top off your bedroom with a luxury furniture piece.
Book a design visit today
Book a design visit with Hammonds to start creating your luxury bedroom today with impressive storage features and stunning finishes. Our experts have a passion for design and can assist you in bringing your vision to life.
You bring the space, we bring the inspiration
Whether you have an exact vision in tow, or are just at the beginning stage of your home renovation, we have heaps of inspiration for you to get stuck into. 
Find a wealth of design tips, trends and inspiration in the pages of our brochure, magazine and on our blog. Our experts are always ready to help you create dream home, pop in store or book your free design visit for experts to help on bringing your vision to life.