5 ways to make your dressing table work for you
| Bedroom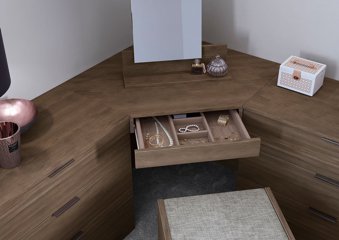 5 ways to make your dressing table work for you
The dressing table; it's your little sanctuary, a dreamy space, a place for all the things you love and need day in, day out. Your dressing table should work harmoniously with you. From morning make-up to evening skincare wind-down. Having a dedicated area in your bedroom makes getting ready and going to bed a pleasure.
Here's 5 ways to make your dressing table work for you.
1.The table
Whatever size room you have, there's nearly always room for a dressing table. Going bespoke and creating a truly personalised fitted dressing table is a great option if you have awkward spaces such as a bay window or a corner area that could be utilised. It also gives you the choice to match to your other furniture in the room. Or if you like to mix and match your pieces, go for something different and then bring it all together with little details like handles.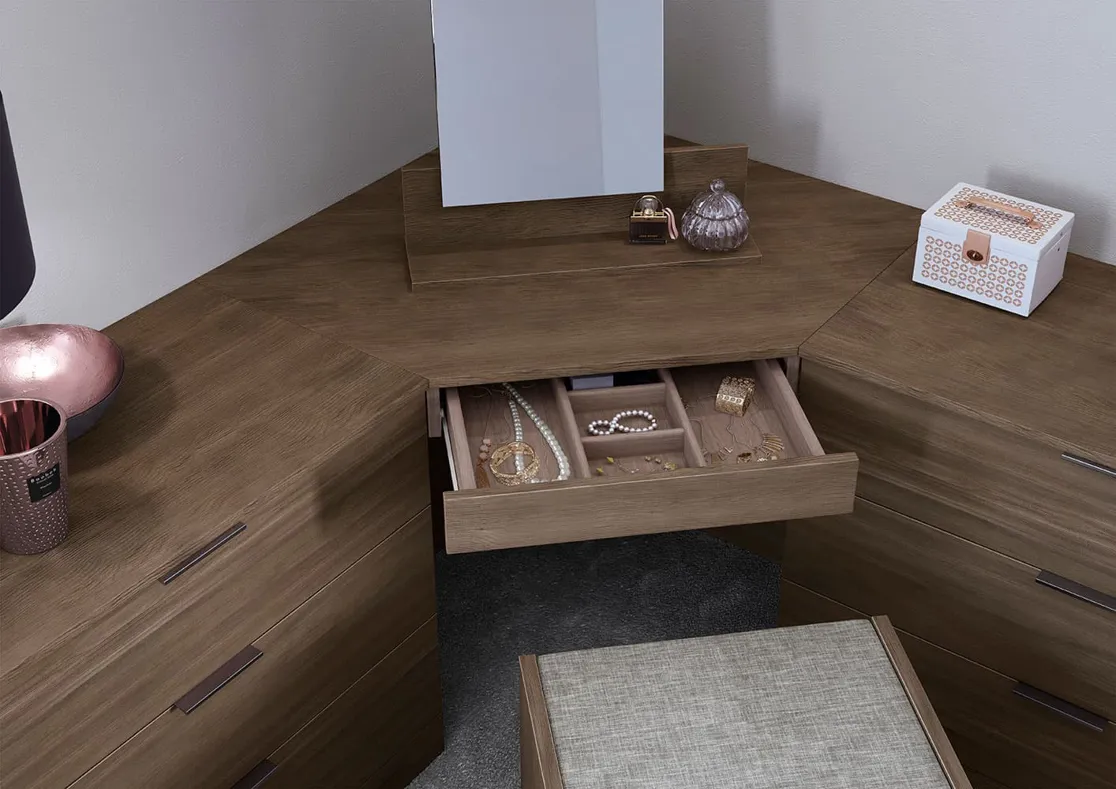 2.Storing the things you love
Storage, the magic word. Having enough storage space within your dressing table is key to its functionality, saving you time and keeping your bedroom clutter-free. It gives you a place to keep all your products and bits and bobs organised while still looking lovely. It really does make getting ready a pleasure. If you have lots of jewellery, consider a jewellery tray. The jewellery tray will sit snugly in your dresser drawers, the compartments will keep all your precious items organised, so you'll never have to look for the other earring again or detangle your necklaces.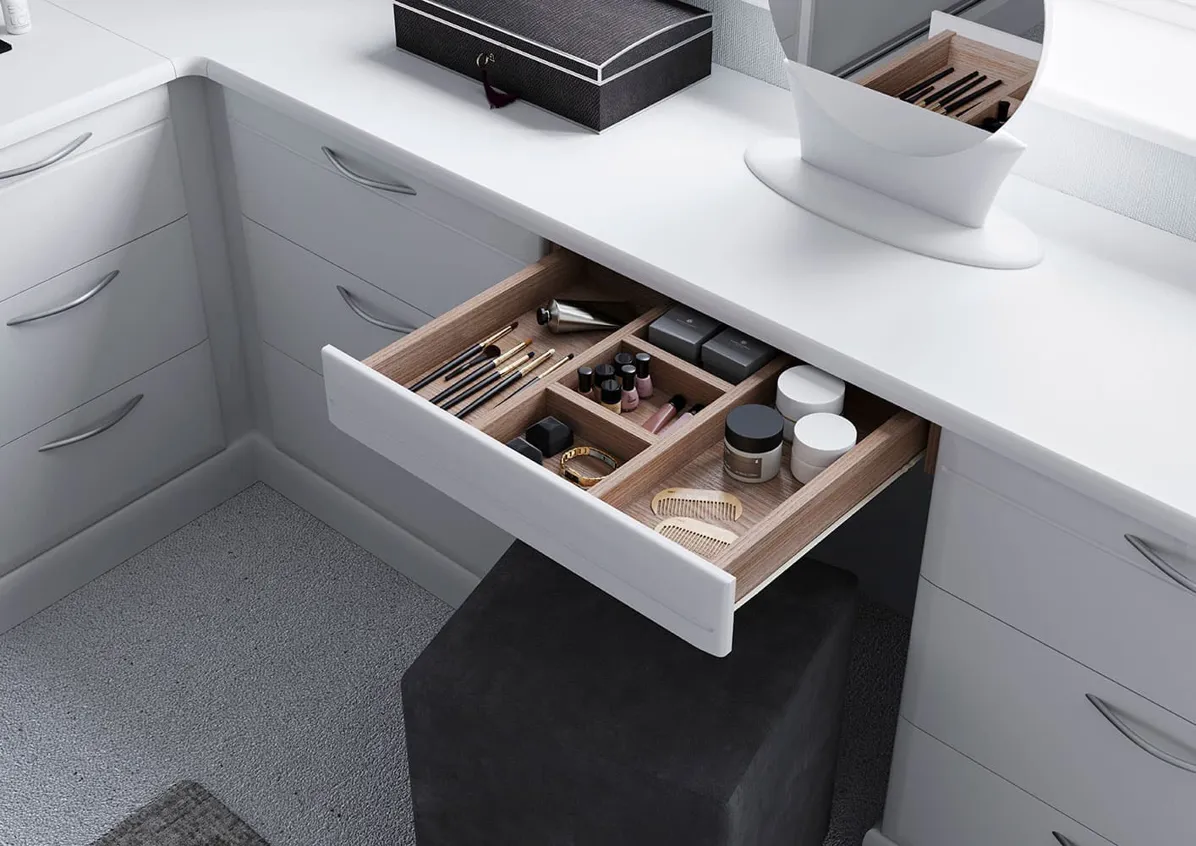 If you have a lot of beauty products, a built in glamour unit is ideal for keeping your products organised and accessible. Having a dedicated cosmetic unit also means you can see everything at a glance and actually use all your beauty buys. It will make getting ready a simple and speedy process, while leaving your table top uncluttered for your accessories –  more on that later.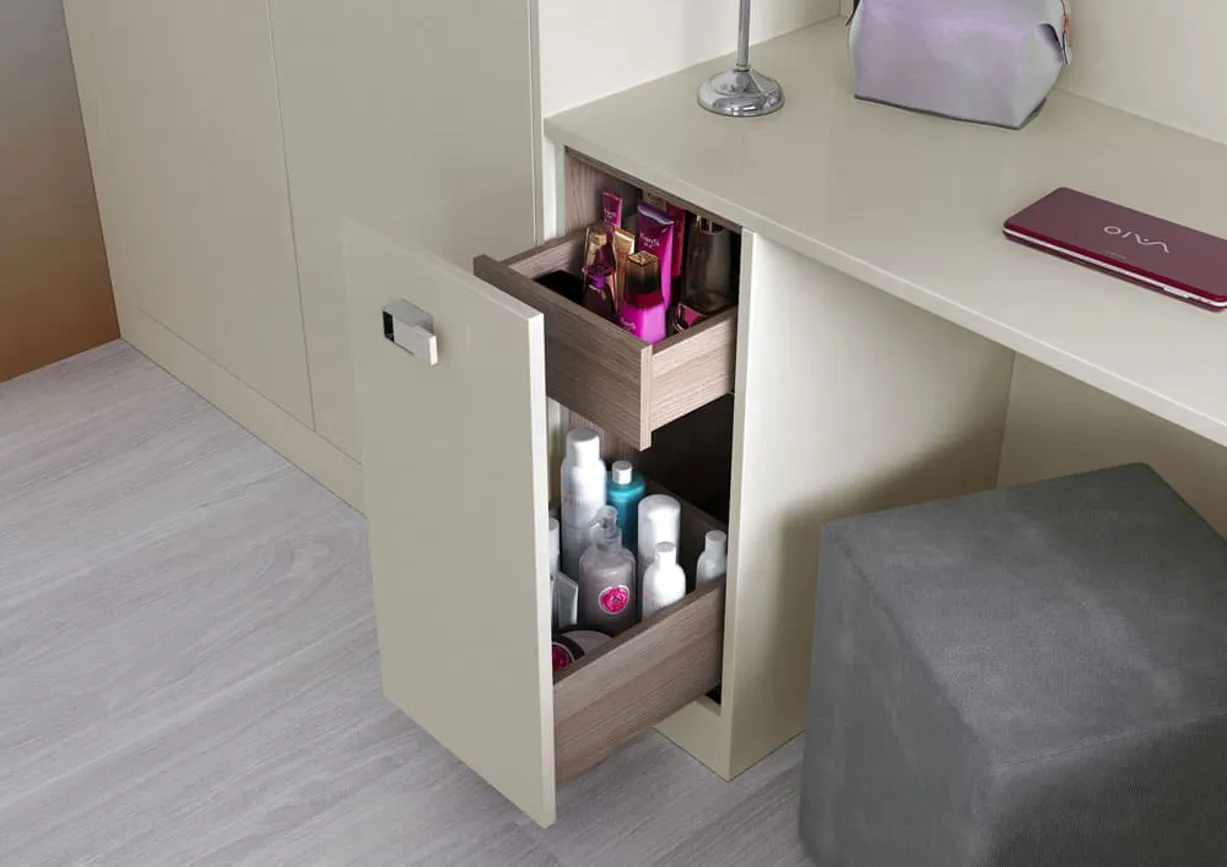 3.Mirror mirror on the wall?
It's a good question. While some dressing tables come with a mirror stand, others don't and you have to purchase a mirror separately to hang on your wall above the dressing table. One of the main uses of a dressing table is getting ready; mirror intensive activities, like putting on your make-up, doing your hair - so the mirror has to suit you. There are benefits to both types of mirrors. While a mirror stand gives you flexibility to move it closer and tilt, should you be applying make-up, the fixed mirror can create a real statement and you can have any size you like.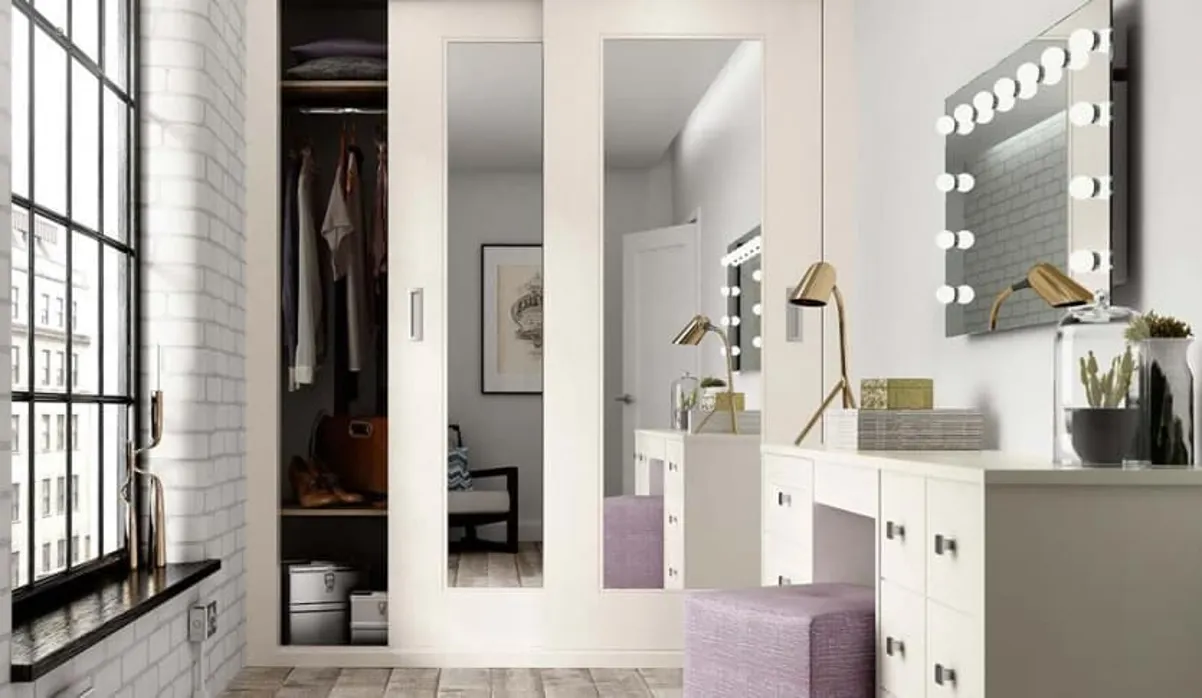 4.Take a seat
Choosing a seat isn't just about comfort, it's about style too. Be sure to choose a seat that is comfortable but still complements your décor. 
Neutral toned fabrics will stand the test of time and fit effortlessly with any colour scheme you go for in your bedroom. Opt for something padded or cushioned for a touch of luxury or if you're more of a minimalist, a simple stool that nestles under the dressing table is perfect for creating a sleek un-cluttered look. Alternatively, if you have a larger room you could go for the Ottoman, this doubles up as a seat and storage space.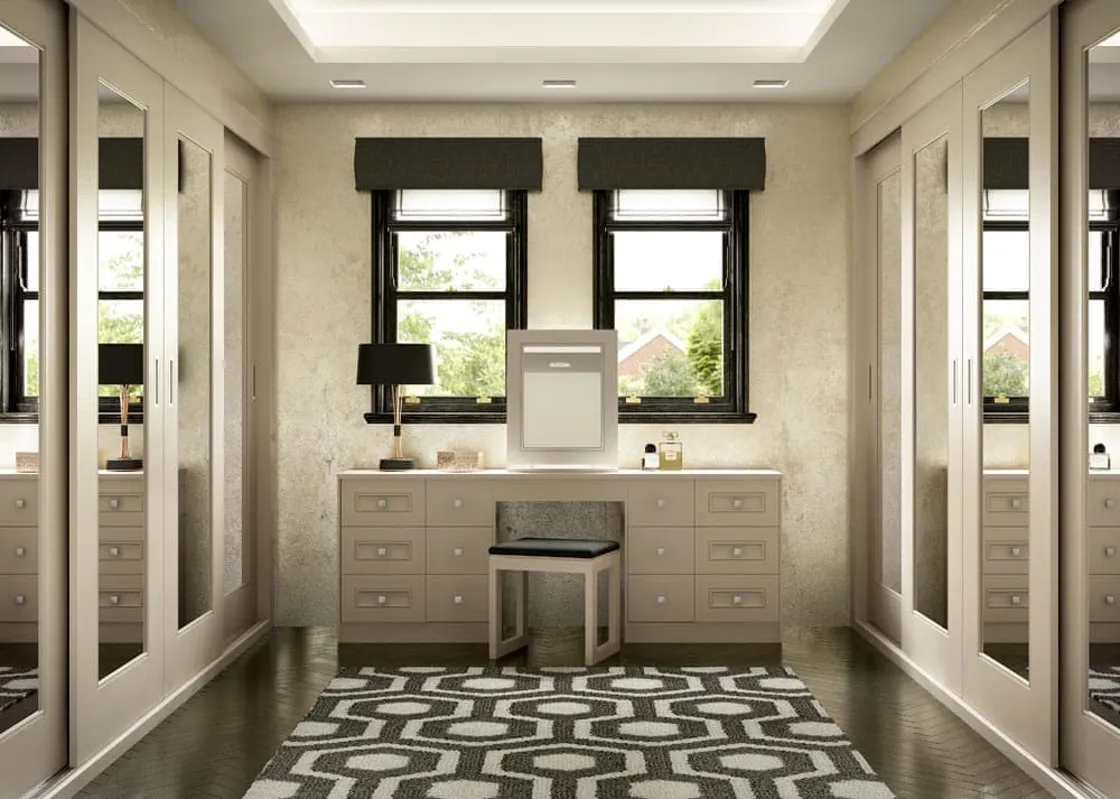 5.Dressing your table
Practical and pretty; your dressing table is the perfect place to display the things you love. Set the scene for your table with little touches like fresh flowers, candles, your favourite photo frame and trinket pots or jars. Think about the things you need to hand like perfume and make-up brushes and how you can display them. Little trays are a nice way to keep your table top tidy. Different sized crystal jars are perfect for storing your cotton pads and cotton buds without spoiling the aesthetic. If you have space under your dressing table, a discreet bin can be tucked away out of sight too.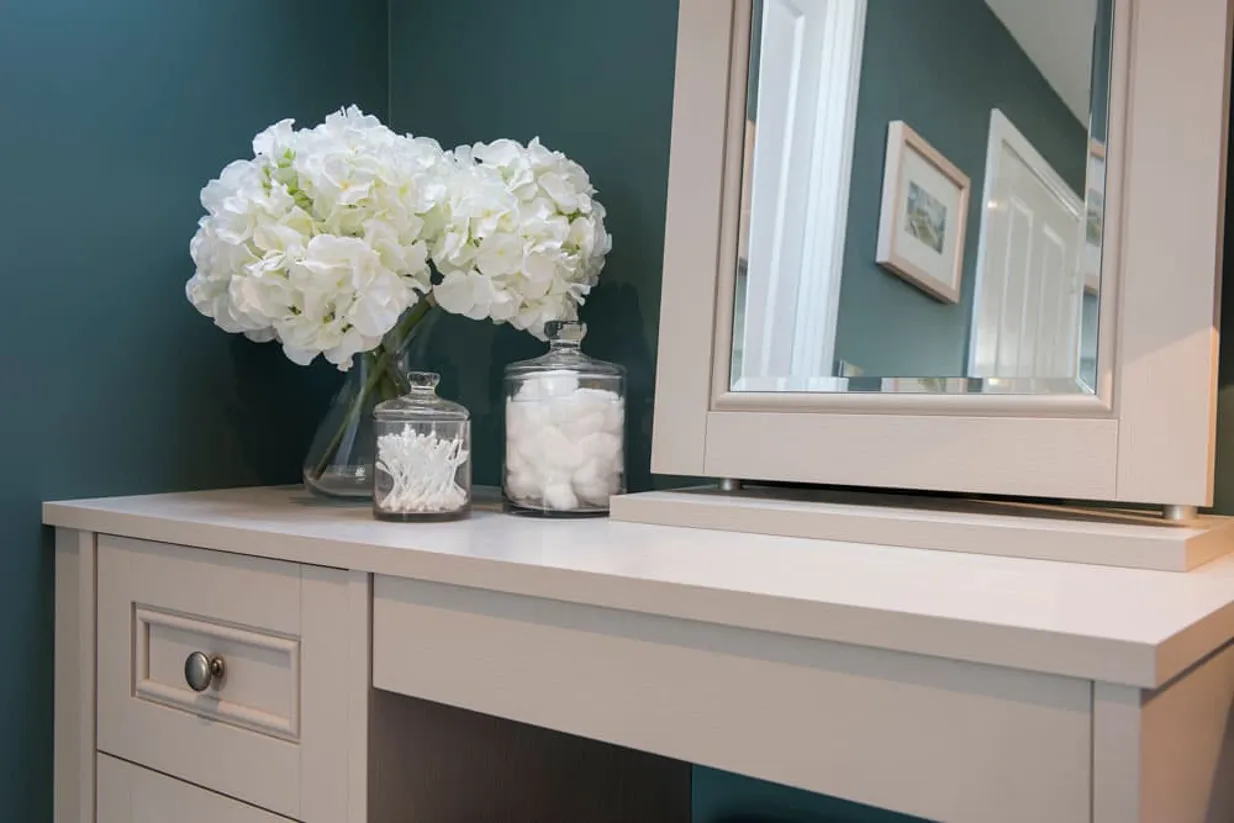 For further interior inspiration and expert advice on completing your bedroom with beautifully bespoke dressing tables, book a design visit or call our team today.
You bring the space, we bring the inspiration
Whether you have an exact vision in tow, or are just at the beginning stage of your home renovation, we have heaps of inspiration for you to get stuck into. 
Find a wealth of design tips, trends and inspiration in the pages of our brochure, magazine and on our blog. Our experts are always ready to help you create dream home, pop in store or book your free design visit for experts to help on bringing your vision to life.