8 ways to declutter this summer
| Bedroom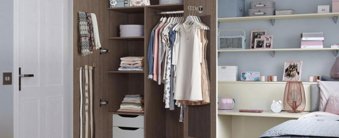 8 ways to declutter this summer
A refreshing bit of summer organisation
During the summer months the closet corners and "stuff" drawers can become neglected. Of course we can see why, there's the sunshine to love and enjoy with friends and family. But as the season begins to creep on and on, perhaps spending a little time to declutter can be beneficial, not only to your home but for the wellbeing of feeling tidy and clutter free. What's more, the task won't be quite so daunting come the colder months.
Declutter the bedroom 
Assign a set time 
Don't overwhelm yourself that once you step into the bedroom, you must have your decluttering completed by the time you leave. Set yourself easy, bite-size time chunks, like 10 minutes to look through your knick-knack drawers. Once this has been completed, you've assessed some pieces to take to the charity shop and those you want to keep, consider yourself a step in the right direction. 
Reconsider your accumulation
The bedroom can often be a source of accumulation of things. Whether it's piles of make-up on the dressing table or multiple photo frames on the window ledge. Could these be stored another way to create a relaxing environment? Perhaps make-up in neat and elegant boxes or drawers and photo frames on the walls.
Declutter the wardrobe
Categories
If your clothes are overflowing from your wardrobe and you still feel like you have nothing to wear, get all of the clothes onto the bed, it's time for a sort. Put your clothes into categories and remove it if it doesn't fit or you don't like it anymore and send them on their way. Take a note of any gaps and use this as a guide when shopping for new ones. 
The coat hanger challenge
There's a simple trick you can do which will help you assess which clothes you are wearing and which are just taking up valuable space. Begin this process by turning all your coat hangers the wrong way around, with the hook facing towards you. With each time you wear and put away again, change the coat hanger to face the wardrobe in the correct way. After a set period of time, you can see which clothes are being worn and which are not.
Declutter the home office
Scanning and shredding
If the weight of paperwork is piling up, consider scanning these in, filing them into documented folders on your computer and shredding them. Keeping on top of this system will help keep your office clutter free but keeping you on top of your paperwork electronically.   
Cable tidiness
It can be quite frustrating getting behind the computer to see a big mass of cables. Keep these organised with desktop power ports and cable outlets fitted into the desk. What's more, labelling up your cables can help you when you need to unplug the right one. 
Declutter the kitchen
Take a closer look at your crockery
Ditch the chipped plates or novelty mugs that you never use anymore. Enjoy using your most loved kitchenware and you may find that you don't need so many items for a family of four. Recycle or upcycle what you can but don't feel guilty, it's just taking up room.
Rethink those kitchen gadgets
Ice cream maker, coffee machine, slow cooker, in this day and age the shops and internet are full of nifty gadgets dedicated to make your life simpler. Great! But what about the space they take up. If you rarely use that slow cooker, does it need to be on the counter? Find a dedicated space to store it. A clever LeMans swing out corner cupboard means you can easily reach it again when you need it without digging.
You bring the space, we bring the inspiration
Whether you have an exact vision in tow, or are just at the beginning stage of your home renovation, we have heaps of inspiration for you to get stuck into. 
Find a wealth of design tips, trends and inspiration in the pages of our brochure, magazine and on our blog. Our experts are always ready to help you create dream home, pop in store or book your free design visit for experts to help on bringing your vision to life.