Beautiful storage ideas for open-plan living spaces
| Inspiration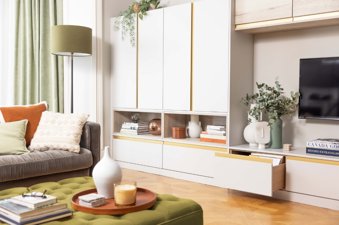 Beautiful storage ideas for open-plan living spaces
Open-plan living is modern and sociable, but it's no secret that it can come with a few challenges – especially when it comes to storage. With fewer walls in your living area, you'll already be working with less organic space to place larger pieces of furniture, so you might need to get a bit creative.
Finding a good place for your shelves, cupboards, and sideboards doesn't have to be overwhelming though. With the right approach, you can find solutions in an open-plan home that exude both subtlety and ingenuity. Here are storage ideas if you're living in an open-plan home.
Divide the space with shelves
It's crucial to build living area storage without crowding or dominating your multipurpose space. If your open-plan kitchen/diner extends the full length of the house, installing free-standing shelving in the middle could divide the space naturally while providing a useful, practical feature. This would create a divide between the kitchen and your living space, which would enhance your evening relaxation, while keeping the room permeable and part of an open-plan scheme.
You could use your freestanding shelving to house books, crockery, games, or stationery. And make it look pretty with floral displays, candles, and photo frames.
Use bespoke fitted storage
If you'd prefer to keep the floor space as clear as possible in your living area, without any dividers, or if you have an L-shaped, open-plan living space, then focusing on the perimeters of the room is the best approach to storage.
Investing in bespoke fitted shelving and cabinetry is a fantastic way to preserve and add to the existing colour scheme in your living area. Bespoke living room furniture creates a seamless look and ensures that everything in your open-plan living room space has a home, minimising any clutter and mess. Fitted storage is customisable, so you can choose the number of shelves, drawers, and cabinets you require to ensure that all your needs are covered. Plus, it provides a high amount of storage capacity in comparison to freestanding furniture units, making it ideal for those with lots of items to house.
Add floating shelves
Floating shelves are also a popular choice for open-plan living spaces due to their minimalist design and versatility. They will allow you to utilise wall space higher up and keep items off the ground, freeing up valuable floor space, while offering a ledge to place books, vases, and decorative objects.
Try a built-in bench
Flexible, multipurpose furniture is invaluable in open-plan spaces. Whether you choose an ottoman or a beautiful window bench, a piece of made-to-measure furniture could beautifully complement your living area and make use of even the most awkward of unused spaces.
If you're looking for somewhere to keep your films, favourite novels, or family board games, a bench can house it all – plus, it also provides practical and comfy seating space too, so you can relax with a good book and a cup of tea.
Use under-stairs storage
If your open-plan living area is on a slope or split into two different levels, making use of the space underneath the stairs could be the best way to store your belongings. The space under your stairs is often underutilised, but can provide a valuable option for additional storage.
Using bespoke, built-in shelves and cabinets, you can create storage for clothes, shoes, books, wine, toys, or sports equipment. Alternatively, it could be transformed into a working area with built-in desk, a reading nook, or a fun gaming corner snug, complete with screens and beanbags.
Let Hammonds design your open-plan storage
Open-plan living is such a popular interior trend that our team are always finding new and interesting ways to add stylish, open-plan storage solutions. Whether it's with trendy under-stairs storage or sleek corner shelving units, we know all the best tricks to maximise both space and style.  
If you're interested in storage ideas for your open-plan area, then book a free design visit today and take the first step towards improving your living interior.