Design ideas to maximise your hallway space
| Hallway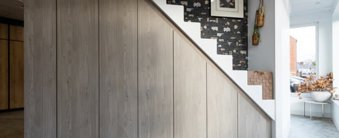 Design ideas to maximise your hallway space
Hallways are the interior entrance to your home. They are generally the first thing you and guests will see when arriving through the front door, so they act as a showcase, setting the tone for the rest of your house. Therefore, designing your hallway to be both practical and stylish should be one of your décor priorities.
Whether you have a small, narrow hallway, or a large, wide one, there are plenty of entry ideas to maximise and enhance your space…
Add light with mirrors
Strategically placing mirrors to create more space in a narrow area is one of the oldest interior design tips in the book. When placed on the right walls, mirrors can open up an area and create an illusion of more room, more light, and more charm.
When it comes to choosing the best mirror for your hallway space, think about what other items are in the area, and what style might complement them. If your fixtures and furniture mainly feature straight lines and minimal design, then you could soften and balance the hard angles using a round or oval mirror. Circular mirrors look stylish above a fireplace, where the curves of the mirror contrast with the straight lines of the mantel frame. If you're looking to create more of a statement, or just want to fill more wall space, then a large square or rectangle mirror will do just that, as well as reflecting a lot of light on the opposite wall and ceiling.
Keep clutter out of sight
One thing that makes a tight space seem even smaller is clutter and mess. If you're not careful, your hallway can end up becoming a dumping ground for shoes, umbrellas, and coats, which in turn will spoil the beautiful aesthetic that you've been working so hard to create. With well-thought-out storage solutions, however, you can prepare a space for all your outdoor clothing and accessories, meaning that as soon as you walk through the front door, you know exactly where to put everything to keep it out of sight. 
A coat stand or fitted door hooks can take the bulk of your visitors' coats and jackets, and shoes can be taken care of with a wall-mounted shelving unit or low-level rack. If you have a little more space in your hallway though, then a bench or ottoman would make a nice feature, which could also double up as a seating space for putting on and taking off your shoes. Plus, the huge benefit of an ottoman is that it contains a wonderful amount of hidden storage space, which is ideal for anything from hats and scarves to fold-up scooters, footballs, and bike locks.
Use under-the-stair storage 
Hallway storage ideas for small spaces come into their own when you consider what other hidden or unused space is available for use. For example, if your staircase has a void underneath, then this could be a location to install built-in storage cupboards to help declutter your life even more.
Making the most of your hallway area has never been easier than with bespoke under-stairs storage solutions. You can tailor the fixtures and fittings to house all the things you need kept out of reach in your entrance, as well as having extra room for other things that would normally be spread around the house. The tall part of your under-stairs is perfect for a coat rail, while the lower sections could be good for paperwork, stationery, or a printer.
Experiment with floor runners
Once your storage is sorted, you can concentrate on making the space as visually enticing as possible. Adding a narrow floor runner down the centre of a thin corridor is an interior hack that gives the illusion of a longer, wider space. Even better if you extend the runner up the stairs for continuation and to further extend the hallway length.
Patterned floor runners can be especially great for hallway entrances as, not only will a pattern disguise heavy foot traffic more than a plain one would, but patterns also offer a distraction for the eyes – focusing attention in that direction, rather than the narrowness of the space. 
Use Hammonds for stylish hallway storage
Modern hallway decorating ideas are what we do exceptionally well here at Hammonds. We have helped many customers to create stylish hallways with practical, fitted storage solutions, and we would love to help you too.
Get in touch to book a free design visit and begin your transformation journey today.
You bring the space, we bring the inspiration
Whether you have an exact vision in tow, or are just at the beginning stage of your home renovation, we have heaps of inspiration for you to get stuck into. 
Find a wealth of design tips, trends and inspiration in the pages of our brochure, magazine and on our blog. Our experts are always ready to help you create dream home, pop in store or book your free design visit for experts to help on bringing your vision to life.