Farmhouse bedroom ideas
| Bedroom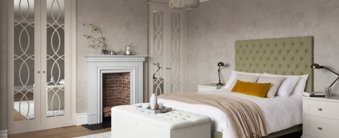 Farmhouse bedroom ideas for a country-style sanctuary 
If we are to reduce 'farmhouse style' down to its core, it would be cosy, relaxed and comfortable. Imagine the warmth from the Aga and the light from the huge, open skies and you will have the spirit of this age-old design style.
You don't need to live on a farm or even in the countryside, though. Farmhouse country bedroom ideas can be just as easily recreated in a city centre apartment.
What is farmhouse interior design?
Farmhouse design started in the US many centuries ago and celebrates practicality, comfort and readily available materials and colours. Wood, earthy tones and a few key vintage pieces give this style its soul. And while a 'modern farmhouse' trend has emerged more recently, which blends traditional country styling with a more minimal, contemporary design, these features will always be at its heart. 
Farmhouse bedroom ideas: Colours
Traditional farmhouse colour palettes are muted. Think whitewashes, buttercup yellows and neutrals such as grey and beige. These simple colours give a sense of softness to a room, as well as help emphasise the colours and textures of furnishings and accents.
Our fitted wardrobes come in a range of finishes that would complement the farmhouse look. The classic wood finishes range from a creamy 'Rural Oak' to a warm 'Light Ash', while our painted options give you a variety of colour choices to fit your style. Pastels such as creams or lilacs can look pretty, while a deep navy blue can make simple décor pop.
Mixing old with new
Farmhouse design is best achieved with some clever balancing of the old with the new. Vintage patchwork on the bed, an old suitcase to store your linens, a painting of a charming country scene – you get the picture.
If you're not lucky enough to have a loft full of family heirlooms, flea markets are the perfect source of ready-made warmth and personality. A quick mooch around one should leave you brimming with farmhouse bedroom inspiration.
We're not talking overload here – a few key pieces combined with some clean, modern lines, will keep you on the right side of farmhouse chic.
Woods and metals
The farmhouse style is not complete without some wooden touches. Exposed wooden beams are the epitome of the country cottage look, but if you don't happen to have them in your home then there are plenty of ways to recreate the feeling. Natural or painted floorboards are gorgeous in a bedroom, especially when adorned with a cosy rug or two.
If you opt for fitted furniture, our Shaker-style bespoke units will add a sense of craftsmanship and warmth. Fitted wardrobes and bespoke storage will also help create a feeling of calm and organisation, as you have plenty of room to put clothes and bedding out of sight.
Small touches of metal can help to bring the look together, whether it's a steel or iron door handle or a classic metal bed frame. The hard lines contrast beautifully against all the soft, natural materials that you have elsewhere.
Décor and accessories
Combining paintings, photographs and a few hand-picked souvenirs will help create that country charm that you're after.
Original paintings can cost a small fortune, but with some clever shopping around there are a few options. Affordable art fairs and websites like Etsy are a great source of new and emerging artists who are selling good work for less. Otherwise, flea markets and charity shops are often laden with old pictures at affordable prices. Just check the quality and sturdiness of the frame before you buy.
Another option for a classic farmhouse look is a display of vintage plates on the wall. Arrange them in slightly haphazard groupings using plate hooks. Or, for a modern twist, choose a simple colour theme such as blue and white and put them up in clean geometric lines.
When it comes to the rest of the room, you could use house plants to emphasise the connection to nature and the countryside. Trailing plants on high shelves can look pretty, while larger, floor-standing plants like Monstera can bring a touch of drama. Lamps with fabric shades, an abundance of cushions, and vases of fresh flowers will pull it all together.
Get farmhouse bedroom inspiration from Hammonds
You can talk through the fitted furniture solution that is right for you with a Hammonds design expert.
Book a free design visit and we will draw you up a plan to help you visualise your perfect farmhouse-style bedroom.
You bring the space, we bring the inspiration
Whether you have an exact vision in tow, or are just at the beginning stage of your home renovation, we have heaps of inspiration for you to get stuck into. 
Find a wealth of design tips, trends and inspiration in the pages of our brochure, magazine and on our blog. Our experts are always ready to help you create dream home, pop in store or book your free design visit for experts to help on bringing your vision to life.