Give your space a refreshing revamp with these green bedroom ideas
|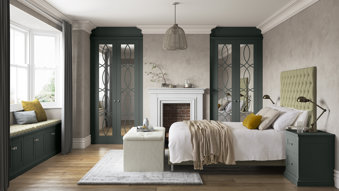 The colour green is incredibly versatile – and it's the perfect choice if you're hoping to create a restful sanctuary where you can unwind after a long day. There are so many benefits to using green in your bedroom, but the shades you choose will determine the atmosphere you create.
Whether you're introducing vibrance with an emerald green bedroom wall, or taking a more subtle approach with sage green, you'll be giving your sleeping space that well-deserved, long-awaited refresh.
Set the scene with sage
Want to incorporate a calm, serene colour scheme into your home? A sage green bedroom will look beautifully soothing and evoke feelings of tranquillity and relaxation. It works perfectly as a complementary colour and can be used with a range of neutral shades, including beige and taupe.
Decorate your room with rustic-style furniture to make it warm and inviting. Pair your sage green walls with other nature-inspired hues to create a comfortable and intimate space.
Add some depth with green furniture
If you're not afraid to use colour in your home, consider using forest green bedroom furniture for a natural, earthy but luxurious feel. It's sophisticated and chic and can be paired beautifully with blush pink soft furnishings for a contrasting, on-trend look.
Green fitted wardrobes are great for those looking to add contemporary flair to bedrooms. The varying shades and tones of green are both versatile and subtle and can complement a range of interiors. They're also superb for ensuring your bedroom stays organised and clutter-free.
Energise with vibrant shades
Grab the attention of your guests by using dynamic and vibrant shades, such as lime or apple green. These are ideal if you're looking to make your bedroom interior appear brighter and more cheerful.
While these colours can be a little intense when used wall-to-wall, consider introducing them subtly by keeping them as accent shades across bed linen, lamps and rugs. This way, you can add a little zest without it being overpowering.
The colours you choose for your home can have a significant impact on your mood. Using bright shades can contribute to the overall atmosphere of your bedroom, uplifting your spirits and producing feelings of happiness.
Introduce drama with emerald accents
Emerald green keeps things formal and elegant in your bedroom design. This eye-catching colour is associated with prestige and luxury and is excellent for adding a little drama to your interior. While greens are traditionally calming and recall the natural world, having an emerald green bedroom makes a bold, eye-catching statement.
It's no secret that emerald green is favoured by designers and homeowners alike, and it even won first place for Etsy's Colour of the Year 2022. Decorate with this shade by using it in your curtains, cushions, or headboard. Pair with gold tones for a vintage and regal feel, ensuring your home is fit for royalty.
Embrace botanicals
Bring outside inside with lush botanicals and embrace nature in your newly decorated green room. Incorporating bold leafy prints on your bed linen and wallpaper can create refreshing and calming visuals that soothe and relax you after a busy day.
Don't forget to buy houseplants for your room to encourage feelings of calmness. Indoor plants are great for boosting mood, reducing stress levels and increasing productivity. And they have air-purifying qualities which can help you get a good night's sleep.
Find inspiration for your new bedroom with Hammonds
If you're redesigning your existing bedroom or moving into a new home and looking for style inspiration, why not book a free design visit with Hammonds today? Our friendly team of interior design experts will take your taste, budget and preferences into consideration when helping you design a dream green bedroom.
You bring the space, we bring the inspiration
Whether you have an exact vision in tow, or are just at the beginning stage of your home renovation, we have heaps of inspiration for you to get stuck into. 
Find a wealth of design tips, trends and inspiration in the pages of our brochure, magazine and on our blog. Our experts are always ready to help you create dream home, pop in store or book your free design visit for experts to help on bringing your vision to life.