How to add structure to your bedroom with lines
| Bedroom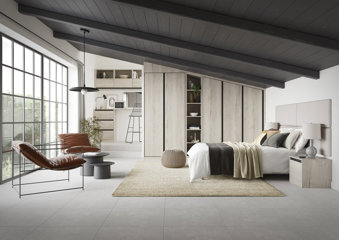 How to add structure to your bedroom with lines
Adding lines is a great way to create structure and organisation in your bedroom. Horizontal and vertical lines in interior design draw attention to a specific focal point and they're one of the seven basic elements to consider. Thoughtfully placed, they can define the whole space and allow you to find a perfect balance of symmetry and harmony.
Below, we'll explain a few of the best ways to incorporate lines in your bedroom, helping to carve out a comfortable and stylish space to relax and switch off. 
Fill vertical space with fitted wardrobes
However big or small your bedroom is, installing fitted wardrobes could be one of the best ways to incorporate line structure. Not only do they make great use of space, but if you choose a design that focuses on vertical lines – like our Harpsden range – then you can create an illusion of higher ceilings and a bigger room.
Combine with the horizontal lines of a fitted chest of drawers and you'll be left with a soothing sense of balance. Take a look at our Real Room Makeovers for more inspiration.
Add contrast with painted lines
Regardless of your chosen colour scheme, contrasting stripes with paint or wallpaper could be a tasteful choice. Painted lines can also be incorporated on headboards and panels, helping the space feel larger while adding character and atmosphere around your bed.
Experiment with stripe widths depending on the size of your room – thick stripes make the most of a larger wall space, whereas narrower ones may suit a smaller room or attic space.
Not a fan of stripes? Geometric shapes can offer a softer approach to a lined theme and work well on a feature wall. Also, lines don't always have to be straight. Curved lines in interior design, such as circles or waves, give a much lighter, more tranquil approach.
Incorporate lines with soft furnishings
As well as forming lines with wall decoration and furniture, you can accessorise with soft furnishings to create some striking design features. Striped bedding, rugs or curtains add a chic, structured look, whereas circular lines provide a softer touch.
From fancy rugs to a soft armchair, choosing characterful furniture could help you create shape in your bedroom. For example, try lining up the base or edges of your bed with the side of a long rug. Alternatively, a striped rug placed beneath a circular bedside table could make an intriguing statement.
Create zones in your bedroom
Creating zones in a bedroom can help maximise its functionality and bring a sense of organisation. You may need areas for sleeping, dressing, working, and exercising, so dividing the space accordingly can make sure all your habitual needs are accommodated.
Your bedroom can be divided using furniture or screens to minimise the requirement for building work. For example, you can use a bookshelf or a screen to create a dressing area or a work nook that is both separate and private from your sleep space.
Ensure that the flow between zones is easy and natural. You don't want to create a layout that feels awkward or cramped. Different lighting fixtures can also help to create a distinct ambience in each zone. For example, use a bedside lamp for the sleeping area and a task lamp for the work area.
Add personality with dynamic lines
For a more layered and depth-giving approach, bespoke bedroom cladding or decorated wooden panels look beautiful around the lower half of the wall or bedframe. Wood panelling can add a warm and cosy feel. It can also showcase the natural beauty of wood, providing texture and depth. Panelling or cladding can also be stained or painted to match the colour scheme of your interior.
As far as panelling goes, vertical stripes are generally the preferred choice. However, horizontal panelling works well in a smaller area and can give a nod towards a laidback, nautical theme too.
Let Hammonds look after your storage lines
If you're interested in bringing clean, vertical, horizontal or curved lines to the interior design of your bedroom with bespoke fitted furniture, we are here to offer our expertise. Book in today for a free design visit to your home with one of our professional designers.
You bring the space, we bring the inspiration
Whether you have an exact vision in tow, or are just at the beginning stage of your home renovation, we have heaps of inspiration for you to get stuck into. 
Find a wealth of design tips, trends and inspiration in the pages of our brochure, magazine and on our blog. Our experts are always ready to help you create dream home, pop in store or book your free design visit for experts to help on bringing your vision to life.