How to create the perfect walk-in wardrobe for your bedroom
| Bedroom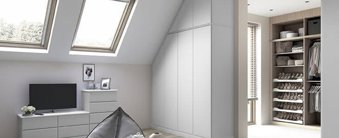 How to create the perfect walk-in wardrobe for your bedroom
If you could name the dream addition to your home, what would it be? Topping the wish list for many would be the walk-in wardrobe but how realistic is the idea of installing such a luxury feature in the typical home
Contrary to what you might think, walk-in wardrobes are not exclusively for those with acres of space or the 'right' bedroom layout. Here at Hammonds, our expert designers work on walk-in wardrobe designs for all sorts of bedrooms - big and small, wide and narrow, straightforward and awkward, and so on and so forth.
Just as they're surprisingly versatile to fit, walk-in wardrobes offer multi-purpose functionality in the home. Not only an ideal storage space for your clothes, shoes and accessories, a well-designed walk-in can also make your bedroom feel bigger rather than smaller.
Can we colour you intrigued? Here's how you can create the perfect walk-in wardrobe design for your bedroom.
The galley-style wardrobe
One of the best walk-in wardrobe ideas for small bedrooms or an additional room that might not be big enough to fit a bed, the galley-style 'walk along' wardrobe gives you floor-to-ceiling storage space along the wall(s) of your room. You can leave this open to create a display-like effect or cover up with sliding or hinged doors as per your preference and the space afforded.
Particularly for a tight area solution like this, we'd recommend mirrored doors to create an enhanced visual sense of space or leaving things open for that true 'walk-in' feel.
The enclosed wardrobe
If you have got the space available (in this case, enough space for somebody to comfortably stand) and like the idea of a 'private' walk-in wardrobe design, an enclosed wardrobe is the way to go.
An enclosed space gives you your own little dressing room in which to get changed and can be separated from the rest of the bedroom using sliding or hinged doors. Consider it your very own fashion-focused ensuite for you to enjoy.
Making use of an awkward space
You might have space in your bedroom that you consider far from ideal in usability terms but that won't stop us from conjuring up a solution to suit. Some of our walk-in wardrobe designs for awkward spaces include:
Above bed - ideal if you're struggling for floor space.
Lofts and attics - maximise your additional loft space, no matter how tight it is, with our help.
Alcoves - we design built-in wall-to-wall and floor-to-ceiling alcove cupboards for more storage and hanging space.
Sloped ceilings - we design a variety of wardrobes for slanted roof fittings, allowing you to take advantage of the more acute angles in your home.
Box bedrooms - a small or compact room can be converted to a built-in wardrobe to optimise your storage.
Customising your walk-in wardrobe design
Once you've landed on the right walk-in wardrobe style for your bedroom, it's time to start thinking about customisation. Three key questions need answers, all of which will help you to create the walk-in wardrobe design of which you've always dreamed.
Customisation question #1: hang or fold?
First up, assess your inventory. What will your wardrobe need to look like in terms of storage? Have you more shoes than clothes, or vice versa? Do you prefer your clothes hung or folded? And what about storage for accessories?
Answering these questions will help you decide how rail-, drawer- or shelf-heavy you want your walk-in space to be.
Customisation question #2: lighting
The great thing about a walk-in wardrobe is that you can essentially treat it as another room. As another room, you'll need to light the space, and that presents the opportunity to get creative.
You can install a series of smaller lights in the wardrobe itself or go for mood lighting or LED strip lighting along the top and bottom of your storage as more unconventional options.
Customisation question #3: finishes and materials
The materials and finish that you choose for your new walk-in wardrobe will likely be the most defining visual features; it's something that's essential to get right if you're trying to create a complementary design to the rest of your bedroom.
Material choices can depend on several factors, including your remaining budget. If you're pushing out the boat, solid wood or veneer finishes tend to be the most eye-catching, but more affordable MDF, plywood and particle board options can still do the job handily.
Book in a design visit with us
We can help you to make a reality of your dream walk-in wardrobe design. Book a free design visit with us to talk through all the potential fitted storage options for your home.
You bring the space, we bring the inspiration
Whether you have an exact vision in tow, or are just at the beginning stage of your home renovation, we have heaps of inspiration for you to get stuck into. 
Find a wealth of design tips, trends and inspiration in the pages of our brochure, magazine and on our blog. Our experts are always ready to help you create dream home, pop in store or book your free design visit for experts to help on bringing your vision to life.