How to decorate a hallway
| Hallway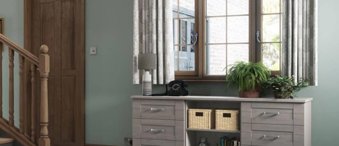 Your hallway is often the first and last area of your home that you and your guests see.
Therefore, it needs to make a positive impression that sets a precedent for the rest of your interior.
From the colour of the walls to the lighting and storage options, here we look at some hallway décor ideas to inspire you.
Decide on your colour scheme
The colours you select for your hallway will depend on the amount of space you have and the shape of that space.
If your entrance corridor is long and narrow, then pale colours and neutrals will ensure it feels light and airy. Pastel hues of yellow, green and pink add an element of character, but won't feel too heavy or oppressive in the thin space.
Large, wider hallways, however, offer the option to be more daring with colour. Here you might want to focus on making the entrance cosier and more welcoming with warmer colours, such as emerald greens or navy. 
Panelling is also a popular feature of hallways in period properties. Therefore, you could use a darker accent colour on the lower panels, leaving the top part of the wall bright white in contrast. This way, you get to enjoy the best of both worlds.
Choose your flooring
Your choice of hallway flooring offers another opportunity to create a sensory impact as soon as you enter the house.
There are many beautiful options available but remember that entrance flooring needs to be hard-wearing because of the amount of footfall it will receive.
Natural wood floors create a feel of luxury and charm in a hallway, and they are fairly durable too. Just remember, however, that wood can be damaged by spills and humidity, so beware if you have children or pets coming in and out every day.
Vinyl or LVT is a flexible and resilient choice of flooring material for hallways too. It's touch, moisture and scratch-resistant and also very easy to clean and maintain. It comes in many different styles, such as wood, stone or marble effect, and is often a more affordable option than real wood too. 
Maximise lighting
Unless you have access to sky lights or glass panels above doors, natural light is often at a premium in hallways.
Low-hanging ceiling lights and pendants could make a narrow space feel cramped. Therefore, you can boost visibility with ceiling spotlights or wall-mounted lighting fixtures instead.
Hanging a mirror on the hallway wall will help to reflect light and makes a thin entrance feel more spacious. They're also handy for making sure your appearance is as you want it before heading out for the day!
If, however your hallway has a very tall ceiling with wide open spaces either side, then a cluster of pendant lights or a large feature chandelier is sure to make a real lasting impression as you enter the house.
Accessorise
Once the storage and décor are sorted, it's time to bring in some personality to your hallway.
Create an inviting entrance with wall art, a photo collage or vinyl wall stickers. Choose something that represents your family, which will make you happy each time you come home.
Welcome guests with floral displays or candles with carefully chosen scents to set a mood. A soft hall rug or runner will also ensure no-one gets cold feet once the shoes are off!
Minimise clutter
You want your hallway to look classy and inviting, but it also needs to be practical.
Often, there may be unused space under staircases that is perfect for installing a built-in wardrobe to house clothes, shoes and accessories. This will ensure that all the clutter is hidden away when your guests have arrived and de-robed from their outdoor clothes. 
There are solutions for even the most awkward of hallway spaces!
Get the perfect hallway with Hammonds
Our team at Hammonds are experts in maximising the functionality of any space. Our designers will work with you to make the most out of a potentially wasted space to create the storage solution you've always dreamed about!
If you're ready to decorate your hallway, then get in touch with our design team to arrange a free design visit.
Our experts will take time to discuss your space, budget and style preferences to help you create a hallway to be proud of.
You bring the space, we bring the inspiration
Whether you have an exact vision in tow, or are just at the beginning stage of your home renovation, we have heaps of inspiration for you to get stuck into. 
Find a wealth of design tips, trends and inspiration in the pages of our brochure, magazine and on our blog. Our experts are always ready to help you create dream home, pop in store or book your free design visit for experts to help on bringing your vision to life.