How to decorate a large hallway
| Hallway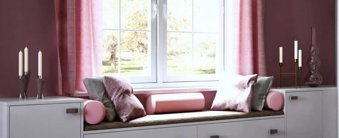 How to decorate a large hallway
Whether you have a townhouse, bungalow or detached house, your hallway is likely to be the reception area of your home, so it's sure to be a focal point for everyone visiting.
If you're fortunate enough to have a large hallway, then you may be wondering how best to decorate it. Luckily, there are many options available to you to make the most of this space.
Whether long and tunnel-like or wide and spacious, this practical blog article offers helpful ideas and suggestions to ensure your hallway feels in proportion and maximises the best use of the area.
Play with proportions
It's important that a hallway feels inviting, so getting the proportions right can make the space feel cosy instead of overwhelming.
If your hallway is long and wide, you could place a long rug or runner along the centre of the hallway to provide warmth underfoot as guests arrive while creating a good divider of space. You could also add wooden panelling to a section of the walls, which not only looks classically stylish but also helps to make the area appear less vast.
Line the walls
Your hallway wall colour needs to complement the interior of all the rooms leading off it, so always keep this in mind when selecting the paint or wallpaper. The amount and type of light in a room impacts how the eye perceives colour, so be discerning in your choice of paint.
If you have a slightly darker hallway that is low on natural light, opt for a lighter colour on the walls to help reflect daylight. A hallway with more light can handle a sultrier look and a darker colour scheme, which makes a large space feel cosier and more welcoming.
Tall or long hallway walls can look cold and empty when left blank. Make the space more interesting with a gallery of photos, prints and paintings. Make the gallery as personal to you as you can so that it brings out your personality and family vibe – it should make you feel happy to come home whenever you re-enter.
Mirrors can also be a great addition to spacious hallways. Opt for a large mirror that reflects the light and allows you to check your appearance each time you leave the front door. There are many mirror shapes and designs available to suit all interior schemes, from rectangular to circular or abstract.
Add a large console table or storage bench
An eye-catching console table in a large hallway can add both visual appeal and functionality. It is useful for the storage of keys, chargers, post, and other much-needed items, as well as providing space to display beautiful lamps, frames and candles. A neat console table also frames prints on the wall or mirrors above it to really bring the space together.
Storage benches are another consideration and offer many benefits. These benches offer helpful storage for footwear, toys, or pet accessories, as well as offering a comfy place to sit whilst removing your shoes and easing on your slippers after a long, busy day.
Choose built-in storage
A bespoke, fitted hallway storage solution can help to maximise under-stairs space if this features in your large hallway.
Under-stairs wardrobes offer ample space for coats, shoes and accessories, as well as a place to drop in school bags, rucksacks and sports gear as you arrive home each day so they don't block the walkway.
A great fitted storage solution will not only ensure your space is always calm and free from clutter but will also fit effortlessly into your interior when decorating a large hallway. You can customise the wood, paint colour, handles and storage styles to make it completely unique to your family's needs and tastes.
Add suitably sized accessories
Think about focal points and luxury decor items to draw the eye in. Fresh floral displays and large house plants will make a welcome addition to the hallway and can be sized up depending on the space you have to work with. You could even group a selection of multi-height plants to create a display of fresh green to bring the outside in each time you open the door.
Try creating a focal point at the end of the corridor with a statement decorative item, such as a large sculpture or a grand coat stand. Choose suitably sized items for the space, be it long, wide or both.
When it comes to candles and diffusers to scent your hallway, again go oversized with large, multiple-wick varieties that won't get lost in the space.
Create a hallway that works for you with Hammonds
At Hammonds, we know how to decorate a large hallway to maximise visual and practical appeal. Our team is experienced in creating beautiful and functional storage solutions and would love to show you how to make the most of your home's space.
Book in for a free design visit with one of our consultants to make the first step in transforming your large hallway today.
You bring the space, we bring the inspiration
Whether you have an exact vision in tow, or are just at the beginning stage of your home renovation, we have heaps of inspiration for you to get stuck into. 
Find a wealth of design tips, trends and inspiration in the pages of our brochure, magazine and on our blog. Our experts are always ready to help you create dream home, pop in store or book your free design visit for experts to help on bringing your vision to life.